Chinese arms exports to Africa have grown exponentially over the past decade, in lockstep with China's controversial relationships with repressive African regimes. Among the goods for sale are electric shock batons, mechanized restraint chairs, and other police and riot gear, according to a new report by Amnesty International.
Torture in Chinese detention centers has long been a problem, despite Beijing's denials, and activists worry that some of China's methods will be exported along with specialized police gear that is being sold to countries in Africa, as well as the Middle East, and Asia. "The Chinese authorities have done nothing to stop companies supplying these sickening devices for export or to prevent policing equipment falling into the hands of known human rights abusers," Amnesty researcher Patrick Wilcken said.
Chinese manufacturers openly advertise spiked batons, weighted hand cuffs weighing as much as 8kg (about 17 lbs), and shackles that can be used to put prisoners into stress positions. One firm, Jiangsu Anhua, says it exports to over 50 countries in Africa, South America, and the Middle East. Another firm, China Xinxing Import, formerly owned by the People's Liberation Army, has said it books $100 million worth of trade with over 40 African countries. That company advertises items like a "quality rubber spiked baton" on Alibaba.com, one of the marketplaces of the recently listed e-commerce giant Alibaba. Electric shock batons and shields, as well as weighted leg cuffs were also for sale on the site, but many of the other products Amnesty highlighted were not.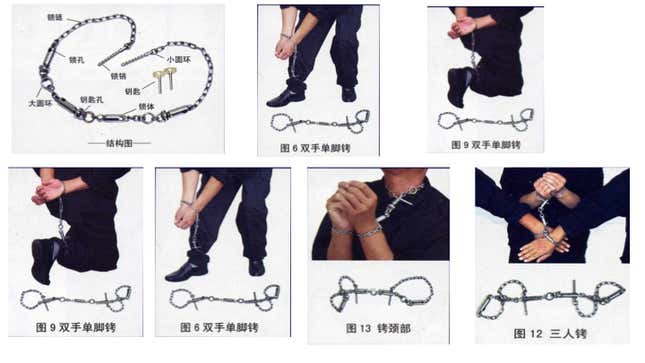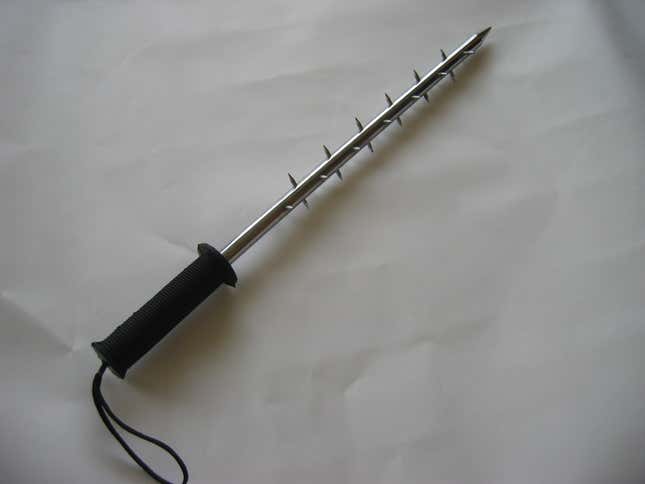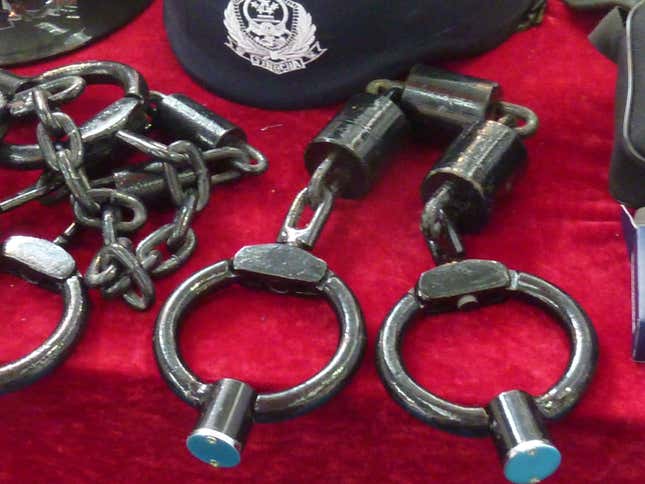 Amnesty and the Omega Research Foundation compiled photos that show security forces in Egypt, Ghana, Senegal, and Madagascar carrying what appear to be Chinese-manufactured electric shock stun batons. There have been reports of Chinese manufactured spiked batons used in Nepal, Cambodia, and Thailand as well, Amnesty said.
China's police and riot gear manufacturing business appears to be growing quickly, according to Amnesty's analysis of Chinese companies own description of their sales as well as their presence at trade fairs around the world. In 2003, the group identified 23 Chinese companies involved in the manufacture and trade of law enforcement equipment—companies Amnesty described as "pain merchants." As of early 2014, that figure had risen to over 130, the report said.