The European Union has walked back from a proposal to require all publicly listed companies in the EU to fill 40% of board seats with women. The measure was meant to help a serious gender gap in company leadership in the 27-member bloc. But after resistance from member states and companies, Brussels is expected to announce on Nov. 14 a plan under which the quota is just an objective, not mandatory.
Here are two interesting graphs on gender imbalance in corporate boardrooms. The first looks at Europe. At 3%, Malta has the lowest percentage of women holding board positions as of January 2012, according to EU data. The Maltese government joined the United Kingdom in opposing "putting women on top" through the EU-wide quota plan. Norway has the highest proportion of women board members, with a little over 42%, while Finland, Latvia, Iceland, and Sweden are in the middle, with between 25% and 27%.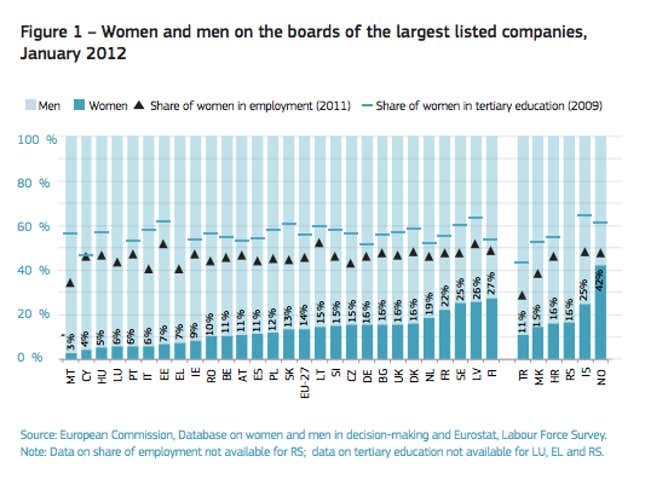 Norway was the first country to make boardroom quotas mandatory, requiring listed companies with more than nine board members to fill at least 40% of those positions with women. But whether Norway's "golden skirts," as the women on these boards are called, are a good advertisement for mandatory quota laws is still up for debate. A University of Michigan study found that in 2002 when the law was first introduced in Norway, companies saw a 2.6% drop in company value as a result of hiring women with less management skills in order to comply with the law.
Countries that have gone through political and social upheaval (pdf, p. 86a) in recent history turn out to be surprisingly good at putting women on company boards. "Gains for women on boards are more often seen in countries where women have only recently been politically empowered," writes Anne Sweigart for the Northwestern Journal of Law & Business, referring to former Soviet bloc countries like Latvia, the Czech Republic, and Slovenia, which outpace Ireland in female representation.
Looking at the rest of the world, European countries are, not surprisingly, among the leaders in female board membership. Yet despite Europe's reputation for providing better health, education, and general employment opportunities for women than the United States, women hold 16.1% of board seats in the US, according to this graph released in August from the research group Catalyst, compared to an average of 13.7% in the EU. The very high percentages in Scandinavia are offset by lower ones in large European countries like Germany, Poland, France, and Spain, and even relatively progressive places like Denmark. It's also notable that Canada, which prides itself on its more progressive politics and European-style welfare system compared to the US, comes in well below, at 10.3%.