Global markets are doing the equivalent of curling up into the fetal position and waiting to fall off the fiscal cliff.
How do we know?
Well, the recent decline in US stocks is telling us. The broad measure of the US stock market, the S&P 500, is down 3.4% since last week's US election.
But perhaps a better read comes from the bond markets. Investors have been shifting cash to some of the world's safest investments lately, including US government bonds.
That has pushed the prices for those bonds higher. And in the world topsy-turvy world of the bond market, the way that's commonly expressed is by looking at the yields on those bonds. Bond yields and prices move in opposite directions.
Put simply, yields on US government debt have been declining markedly in recent days, from levels that historically would already be considered quite low. Here's a look at the yield on the 10-year Treasury note over the last month.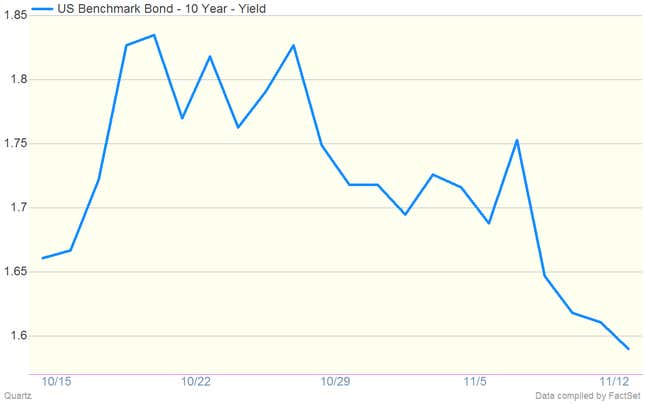 Traditionally low and declining bond yields are seen as a sign that investors expect the economy to slow down. And here's what bond market watchers are saying about the reason why:
"The fiscal cliff is being priced in because it's the biggest risk facing the market right now," Priya Misra, head of U.S. rates strategy at Bank of America Merrill Lynch in New York.