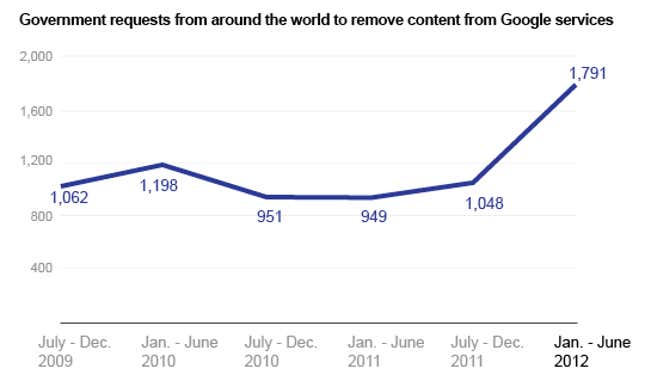 Google received 1,791 requests from government agencies to remove content in the first six months of 2012, an 89% jump from the same period a year ago, according to the company. The spike is unusual; takedown requests from governments had been flat since Google began disclosing the data in 2009.
A large portion of the increase came from Turkey, which led all countries with 501 requests. Google said it was asked by the Turkish government to remove hundreds of YouTube videos and blog posts that were critical of the country. The company complied with 45% of Turkey's takedown requests.
After Turkey, the countries with the most requests to remove content from Google in the first half of the year were the United States (273 requests), Germany (247), Brazil (191), and the United Kingdom (97%). In all, by my calculation, Google complied with 44% of takedown requests.
Google also said it received 20,938 government requests for user data in the first half of this year, up 35% from the first half of 2011. Such requests have been steadily climbing since at least 2009, led by the United States, which made 7,969 requests for user data in the most recent six-month period. Google complied with 90% of those US requests, possibly including court orders in the investigation surrounding former CIA Director David Petraeus.
Here are the top 10 countries by requests for user data in the first half of the year:
United States: 7,969 requests; 90% complied with
India: 2,319; 64%
Brazil: 1,566; 76%
France: 1,546; 42%
Germany: 1,533; 39%
United Kingdom: 1,425; 64%
Italy: 841; 34%
Spain: 541; 52%
Australia: 523; 64%
South Korea: 423; 35%