Brazilians go to the polls in less than a week for the first round of voting in general elections. The presidential race between incumbent Dilma Rousseff and challenger Marina Silva looks too close to call.
That's scared the markets. A month ago, Silva enjoyed a 10-point lead in the polls in a runoff contest with Rousseff. But the latest poll by Datafolha, released after markets closed last week, put Rousseff ahead, just above the margin of error. (If no candidate gets more than 50% of the vote on Oct. 5, which is likely, the two most popular candidates go head-to-head in a second vote on Oct. 26.)
The prospect of a second Rousseff term—which would mean 16 years of unbroken rule by the Worker's Party—appears to be unsettling traders, with stocks and the real falling sharply today, extending losses this month that have mirrored the gains that Rousseff has made in the opinion polls. The real recently touched a five-year low against the dollar, and Brazil's benchmark stock index has shed 10% so far in September: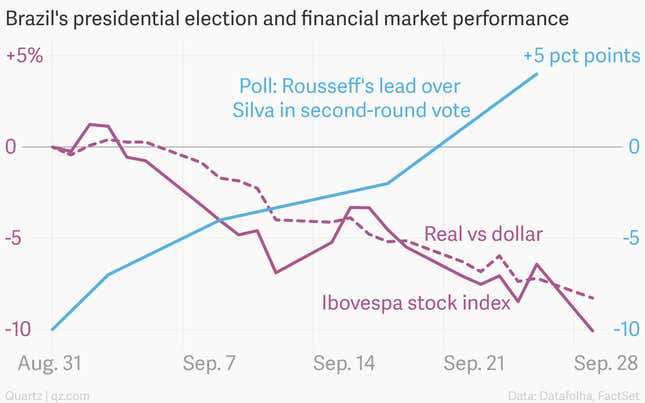 Aside from her gains in the polls, the news hasn't been great for Rousseff lately, with Brazil slipping into recession amid the lingering resentment that followed popular protests sparked by the cost of living, corruption, misspent funds on World Cup and Olympic venues, and various other ills. But she has closed the gap with Silva—who became the Socialist Party's candidate in August after the party's original choice, Eduardo Campos, died in a plane crash—by taking advantage of a big fundraising advantage and much more airtime on television.
Rousseff's increasingly sharp criticism of her opponent appears to be paying dividends. In a research note, analysts at Teneo Intelligence reckon that the incumbent's "fierce" attacks will see her lead grow in the run-up to the first round of voting, and will probably be enough for her win a second-round runoff vote. Silva is a largely unknown quantity, but the markets have passed judgement on Rousseff's spotty economic record since she took over from popular predecessor Luiz Inácio Lula da Silva, and they don't like where the race is headed.