Who owns the DAX, Germany's pre-eminent equity index?
Not many Germans, it turns out. According to fresh research from the Bundesbank, the share of domestic ownership of the index—which comprises the 30 largest public companies in traded in the equities markets—fell from 44.1% in 2005 to 36.3% in 2014. Meanwhile, the foreign ownership share rose from 55.9% to 63.7%.
The share of private household ownership, included under the category of domestic, fell from 14.4% to 12.9% over the same period. Likewise, the share owned by German institutional investors and investment funds also declined over the same period.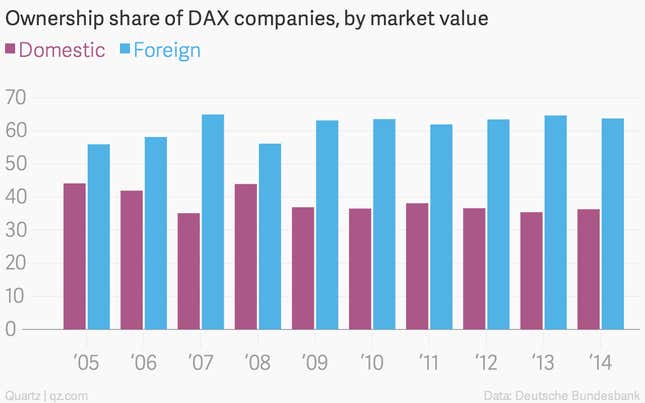 Interestingly, the Bundesbank notes while German households are apparently uninterested in the large, global companies that make up the DAX, they do have some appetite for equities. "Domestic households have a particular preference for the shares of smaller enterprises, which the Bundesbank economists believe might be partly explained by households' bias towards local firms with which they are familiar, and for which they are even prepared to accept potentially inferior returns," analysts from the bank wrote.