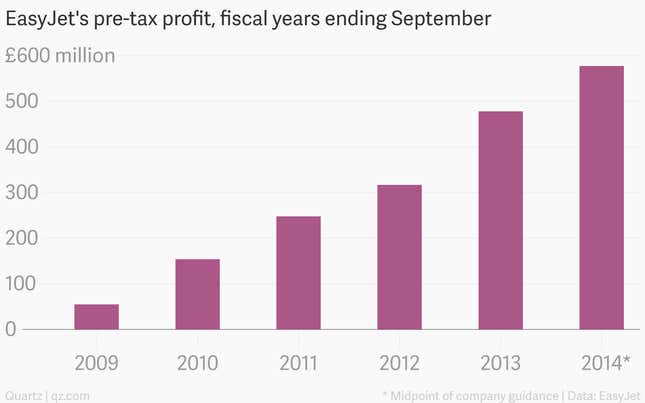 The numbers: Flying high. Low-budget airline EasyJet published some bullish projections for its latest fiscal year, adding some £20 million ($32 million) to its pre-tax profit target. It now expects profit for the year ending September to be £575-580 million when it reports final figures next month.
The takeaway: Higher passenger numbers, lower fuel costs, and favorable currency trends have all helped the airline boost its results in recent quarters. Investors are also cheering the prospects for a bigger dividend, sending EasyJet's share price up by more than 6% today.
What's interesting: EasyJet's strategy to attract more high-margin business travellers is working well, but the airline has also benefited from the dysfunction of competitors. Air France pilots' two-week strike last month boosted EasyJet's revenue by £5 million, as passengers switched to the budget carrier on shared routes. Ryanair's costly efforts to turn around its penny-pinching reputation have also reflected well on EasyJet, even though it is no stranger to the same sharp practices.