What happens to a no-frills airline when it's forced to add frills? We are about to find out, after Ryanair today announced its second profit warning in as many months.
Since the low-cost airline's first warning, in September, it has been on something of a charm offensive, softening or reversing many of the sharper practices that earned it a reputation for deficient—if not openly hostile—customer service. Baggage, check-in and ticket-change fees were reduced, weight and size restrictions relaxed, and the airline's website streamlined to make it more user-friendly. Today, Ryanair announced it was adding yet another perk to its service: fee-free assigned seating for all passengers, ending the mad scramble that marks the boarding process on many of its flights.
The airline today reported a 1% rise in profits for the six months to September (pdf), but warned that earnings in its full fiscal year would fall to around €510 million ($689 million), from €569 million in the previous fiscal year. It previously warned that profits would be flat, so the latest guidance represents a sharp downward revision. The carrier's share price plunged by more than 11% on the news.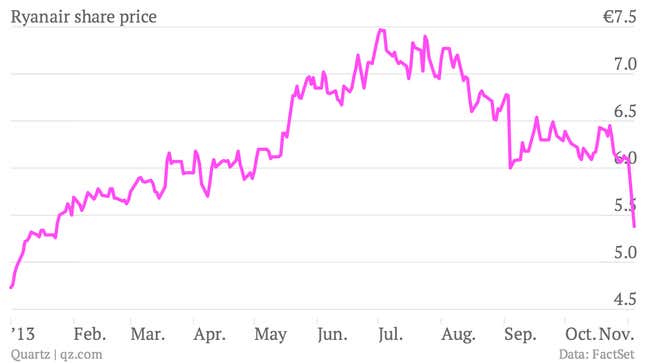 In September, Ryanair launched a price war in response to the weaker conditions it expected. Continued "fare and yield softness", in the company's words, are behind its latest stumble. Chief executive Michael O'Leary cited "an amalgam of excuses" for the profit warning on a conference call with analysts, from unusually warm weather to exchange rates and general economic weakness.
It is not lost on analysts that low-cost rival easyJet is flying high, thanks to the perks it offers business travellers and, in part, its friendlier image among flyers. Ryanair is thus introducing many of the frills that it once rejected in its single-minded focus on low costs. But turning around a company's reputation takes time, particularly one as deeply ingrained as Ryanair's.
Ryanair remains Europe's largest airline by passengers, which proves that people are willing to put up with a certain amount of indignity to save money. The airline says that fares will fall by 9%-10% over the next six months, further enticing travelers. But it is telling that the perks Ryanair once considered frivolous are now part of its service, a signal that low fares alone will not fuel its future growth. O'Leary admitted as much on the conference call: "If we're going to win the next 20 million or 30 million customers away from the easyJets, the BAs, the Lufthansas, we need to eliminate some of this negative chat."