Strange but true. Everyone seems to agree that the British economy looks downright sluggardly. And yet, the jobs numbers haven't been terrible.
The latest reading of Britain's ILO unemployment rate, out today, shows it ticked down to 7.8% in the three months that ended in September, from 7.9% in the three months that ended in August. The Office for National Statistics said the number of unemployed people fell to 2.514 million from 2.528 million, i.e., 14,000 people. Don't get us wrong, it's not time to break out the champagne. But the rate has moved in the right direction lately. Here's a look.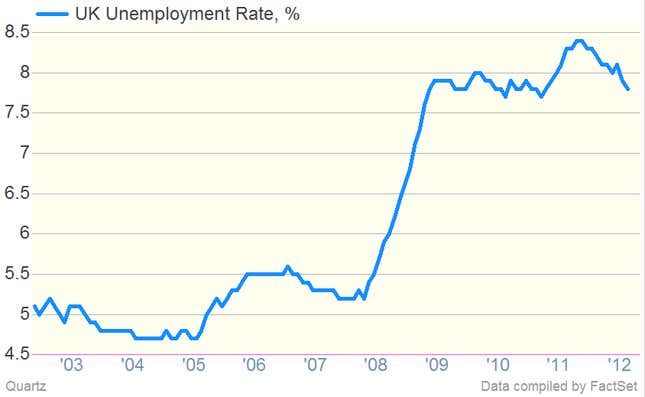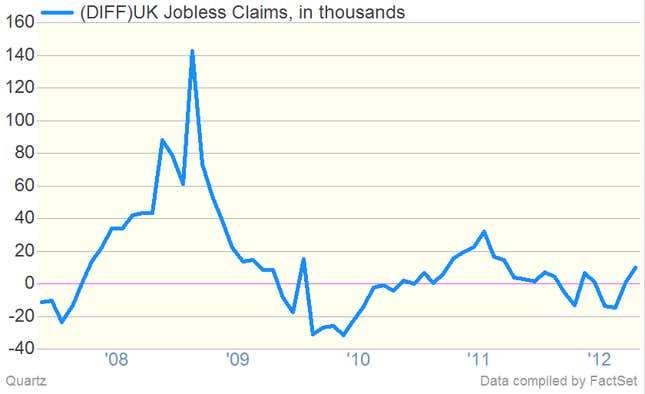 And yet, at the same time, the number of people filing for unemployment benefits in the UK has been picking up steam. It rose by 10,000 in September, which some see as a sign that jobs gains in England are far from rock solid. Here's a look.
What do these two numbers add up to? Frankly, it's hard to say. And why should the rest of the world care? Well, in the great austerity debate that's currently gripping policy makers in the developed nations, Britain's Conservative-led government is conducting a high-stakes experiment in reducing spending even as the economy remains weak. If growth does indeed start to turn around and the job market picks up steam,  that would be a major political win for the government and strengthen its hand to continue pursuing spending cuts. It would also become a powerful talking point in the US too, as Democrats and Republicans bash one another over the relative merits of cutting spending, raising taxes, and pumping cash into the economy via fiscal stimulus.
For the record, count us skeptical that Britain's not-terrible economic performance will endure. There are a lot of oddball elements at play in recent economic data, not the least of which is the impact of the Olympic Games in London over the summer. And we aren't alone. Bank of England Governor Mervyn King warned that better-than-expected numbers on British GDP on the third quarter likely won't last. "Output growth is likely to fall back sharply in Q4 as the boost from the Olympics in the summer is reversed—indeed output may shrink a little this quarter," King said.