American Mickey is giving European Mickey a helping hand.
Walt Disney will bail out Euro Disney, owner of Disnyeland Paris, with €1 billion ($1.26 billion) that will help free up cash and cut debt at the long-suffering French theme park. Disney will invest €420 million through the issuing of new shares and convert €600 million in debt to equity. It will also defer interest payments owed over the next few years to 2023.
Disney owns 40% of the shares in its European sibling. Saudi prince al-Waleed bin Talal, who has stakes in News Corp, Citigroup, Paris's Hotel George V, and more—owns 10% but reports say he has not decided whether he will exercise his option to buy new shares.
Investors reacted to the news by sending shares down 15% in early trading. In fact, since the theme park's shares made their debut, Euro Disney hasn't been very magical for shareholders: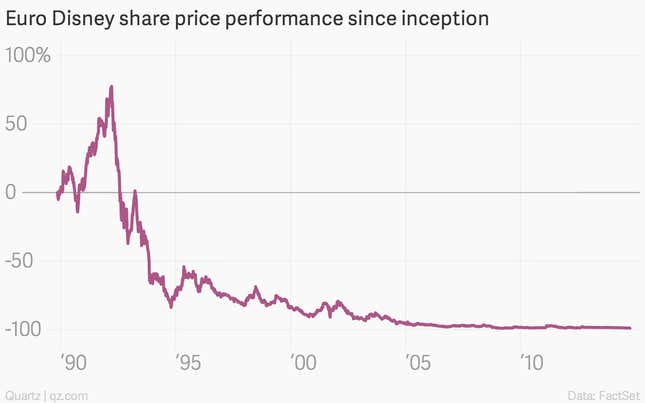 Disneyland Paris has seen visitor numbers rise substantially since it opened, from 8.9 million visitors in 1993 to 16 million in 2012, but the moribund European economy has hit visitor numbers recently, which fell to 14.9 million last year. And although revenues have increased from €753 million in 1993 to €1.3 billion last year, profitability is proving more difficult. The company has made a net loss for 11 of the past 12 years: