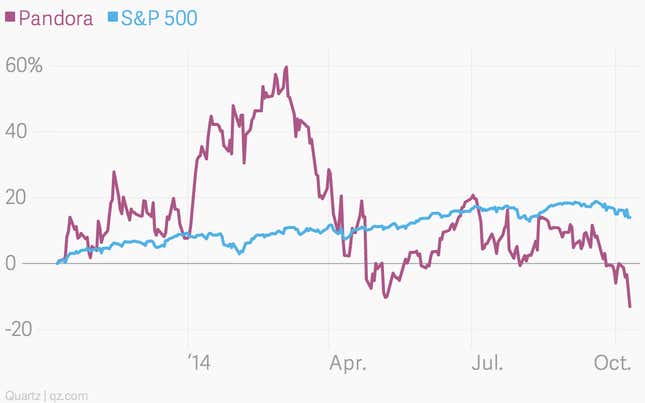 Pandora Media has had a tremendous amount of success in recent years.
The internet-radio service has amassed the biggest user base in streaming music (76 million active ones at last count) and it is consistently ranked the second most popular mobile app among millennials in the US, behind only Facebook.
But it's starting to look like the dream run for the company might be over—at least as measured by it's share price.
Shares tumbled 5% on Friday to touch their lowest level in a year. The stock has now fallen by about 20% in 2014, though they're still up about 60% and slightly head of the market since its mid-2011 IPO.
The company has long had a difficult relationship with record labels and publishing companies over royalties. This week, SoundExchange, an organization that collects royalties on behalf of labels, put forth a proposal that would increase Pandora's (and other internet-radio services) royalty rates significantly from 2016 onwards. (It wants Pandora to pay $0.0025 per song, rising to $0.0029 by 2019; or 55% of its gross revenues).
This proposal is by no means binding, the statutory authorities (the Copyright Royalty Board, to be precise) will ultimately decide, but it does appear to have spooked the markets to some extent. Morgan Stanley told clients on Friday that the proposal could lead to a 65%, or $300 million, increase in Pandora's royalty costs relative to its estimates for 2015. Some investors have been hoping Pandora can lower the amount it spends on royalties.
It's worth pointing out that other volatile, high-growth, tech-related stocks such as Twitter and Tesla are also sharply lower on Friday, but their gains in 2014 are much higher than Pandora's, which is now negative on a year to date basis.
The company still has a lot going for it, but you get the sense it needs to make another breakthrough on the royalty front for it to truly capture the hearts of investors again.