The numbers: Good. American Express said today it earned $1.5 billion in the third quarter, up 8% from the same time last year. Revenue was $8.3 billion, roughly unchanged from a year ago.
The takeaway: Despite worries of a global economic slowdown and weaker US retail sales in September, spending by cardholders grew 9%, to $258 billion. Revolving debt incurred by cardholders rose 5%, to $66.1 billion.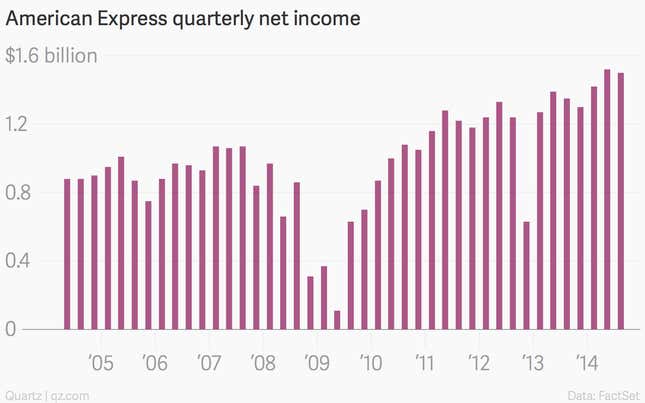 What's interesting: Membership has its privileges, as Amex used to say. And now those privileges are reaching the masses. The company, which has long has pitched its cards to upscale spenders, is making moves to broaden its appeal. Thanks to a recent deal with McDonald's, Amex cardholders in the US soon will be able to use points from the company's Membership Rewards program to pay for meals at McDonald's restaurants nationwide. Or cardholders can use Apple Pay, which Amex supports. Amex cardholders also can pay for purchases at Dollar General, now that Amex has added the biggest US dollar-store retailer to its payment network.