If you're a frequent traveler, you may be familiar with pre-flight anxiety. But not everyone experiences it for the same reasons. For men, the most pressing issue before a trip is whether the flight will depart on schedule; for women, it's getting to the airport on time—that's according to a new study from the Airline Passenger Experience Association.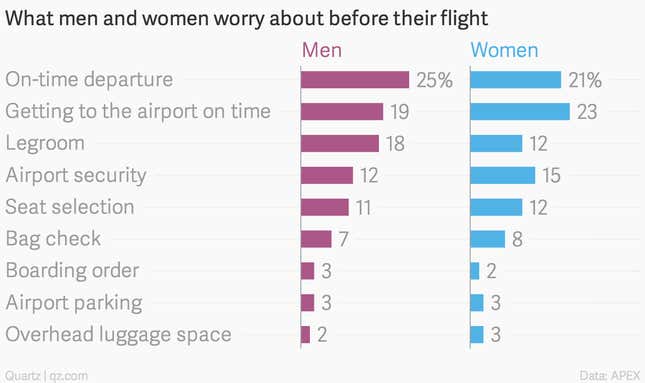 Though its name might imply otherwise, the Airline Passenger Experience Association (it goes by APEX) represents airlines and airline vendors, not passengers. But the group surveys passengers for its State of the Air Passenger Experience Program, an initiative that began this year. Its report is based on responses from about 1,500 flyers from eight countries (Australia, Brazil, China, Germany, Japan, Singapore, the UK and the US) who reported having traveled by plane at least once during the previous three months.
Breaking out the data by country, it appears that Japanese travelers fretted the least about legroom (just 5% noted it as an issue), while 51% shared concerns about getting to the airport on time—the highest percentage among the nationalities represented in the survey. Brazilians were the most worried about checking their bags, but were the least bothered by seat selection. Chinese travelers were closely behind the Brazilians in shaking off concerns about seat selection, but were far more likely to be stressed out than travelers of other nationalities by airport security.
In-flight entertainment is a hotly competitive business but it isn't the only way travelers kill time in the air.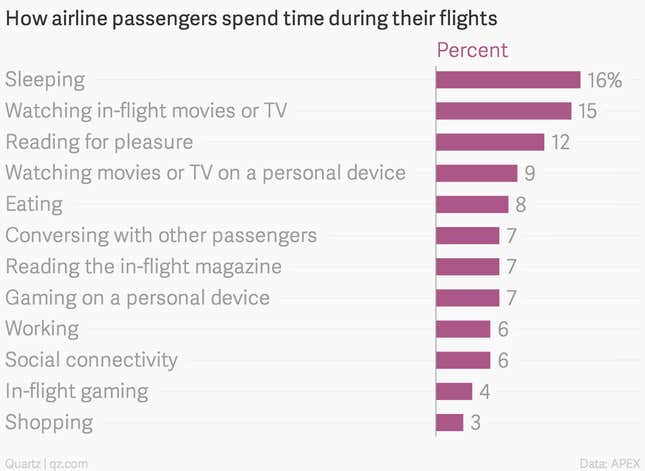 Chinese travelers were the most likely to sleep or to shop. They also were the big gamers, dominating the groups that said they played games on their personal devices and via the in-flight entertainment system. Americans, meanwhile, were the most likely to focus on work. Brazilians were best at staying connected online, via email, messaging apps, or social media. Germans and Brits were the chatterboxes; they were the most likely to strike up conversations with strangers.
In terms of improvements that travelers would like to see, the biggest demand overall relates to seat comfort and connectivity. But here, too, APEX observed variations in responses by gender and nationality. Women, for example, were more likely to advocate for improvements to airplane bathrooms, while men were more interested in seeing an option for a quiet cabin.