Winter is coming.
And it's going to be another blisteringly cold and snowy one in the US, according to AccuWeather, a forecasting service. The company published its 2014-15 winter weather forecast this morning and its analysis predicts a repeat of last winter's polar vortex.
The polar vortex is a counter-clockwise flow of arctic air that comes from a "large region of low pressure that continuously sits near the North Pole during the winter," according to the US National Weather Service. Occasionally, the vortex can spread much farther south than is normal, which traps the cold air into a wind flow known as the jet stream.
The polar vortex brought record-low temperatures and high snow totals to large swaths of the US last winter and had a chilling effect on the economy too, stagnating growth. The US economy's real GDP shrank by 2.1% in the first quarter just as the polar vortex was in full swing, and economists largely attributed the drop to the extreme weather. The chart below shows what happened last time.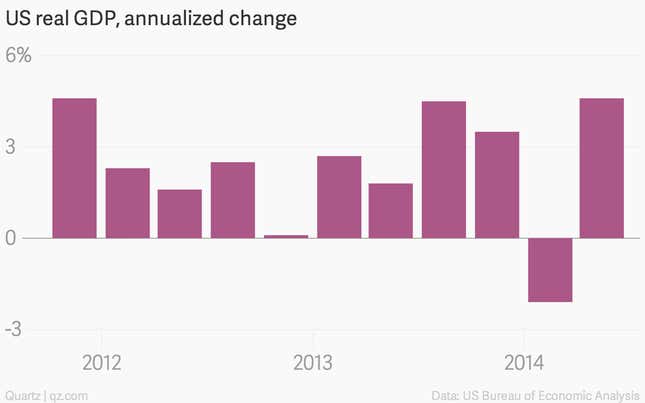 It's small comfort, perhaps, but AccuWeather's long-range forecaster, Paul Pastelok, predicts that this winter's polar vortex will not be as unrelentingly persistent. The cold air will hit the country's northeast region next month, he says, and intensify there and elsewhere in mid-January into February of 2015.