A majority of Russians think Western sanctions will help their economy, according to a new poll. They may be taking their cue from president Vladimir Putin, who extols the virtues of greater self-sufficiency and dismisses the "futility of attempts to blackmail Russia" via sanctions.
The numbers paint a less positive picture, however. Vladimir Osakovskiy of Bank of America Merrill Lynch recent slashed his outlook for Russian GDP growth next year to a 1.5% contraction, down from zero growth. The economy will also be lucky to eke out any growth this year too, with stagnation compounded by inflation that's running at nearly twice the central bank's 5% target.
The Russian government's recently released three-year budget, naturally, relies on much rosier assumptions.
The biggest risk to the budget is the plummeting oil price, which is now well below the level at which the Kremlin can balance its books. The government plans to run a small deficit in the years ahead, but that's based on oil that fetches $100 per barrel, nearly 20% higher than where it has traded in recent days.
But Putin's secret weapon on this front is a weaker currency. The ruble has fallen almost as far as the price of oil has so far this year, and that keeps the ruble value of dollar-denominated oil sales reasonably steady: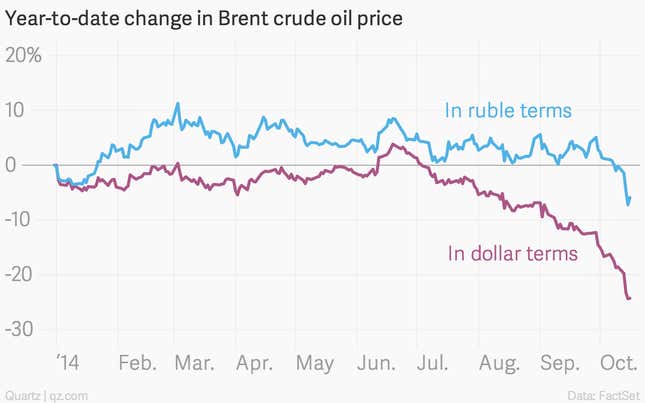 This is why Russia remains committed to letting its currency float freely from next year, even though that probably means the ruble will continue to tumble. Rather, especially because the ruble will probably continue to tumble—versus the ruble's current level, it will take a drop of around 15% versus the dollar for the government to balance its budget if oil keeps trading at its current price, Osakovskiy told Quartz in an email. So far this year, the ruble has already lost around 20% of its value against the dollar.
There are risks to a much weaker currency—namely, inflation and capital flight—but as Osakovskiy puts it, "a much weaker [ruble] effectively resolves the issue of lower oil prices for the budget." And remember that oil and gas accounts for half of all government revenue, a key source of largesse that Putin can direct to keep the locals convinced that their country is still headed in the right direction.