Perhaps the most interesting news about Apple's new iPad Air 2 tablet is buried at the bottom of one of its marketing pages: It will come pre-installed with a new "Apple SIM" card instead of one from a specific mobile operator. (Credit to Julien Theys for noticing this.)
Apple explains:
The Apple SIM gives you the flexibility to choose from a variety of short-term plans from select carriers in the U.S. and UK right on your iPad. So whenever you need it, you can choose the plan that works best for you—with no long-term commitments. And when you travel, you may also be able to choose a data plan from a local carrier for the duration of your trip.
So far, Apple lists three of the top four US operators—AT&T, Sprint, and T-Mobile—as partners. In the UK, there's EE, a joint venture between T-Mobile and Orange. Apple says participating carriers may change.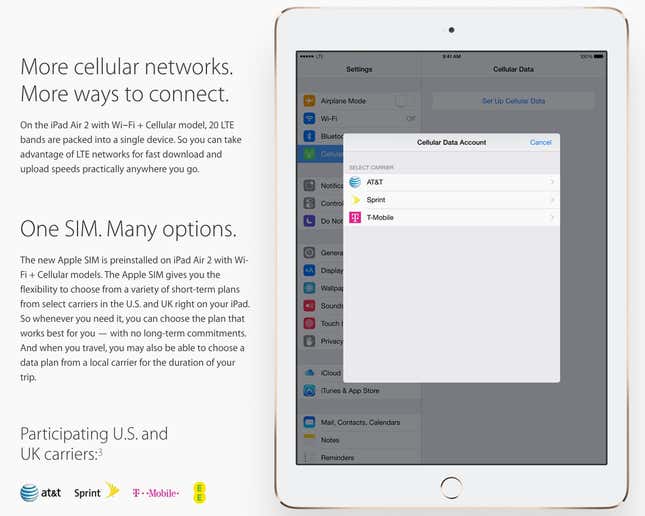 It's early, but it's easy to see how this concept could significantly disrupt the mobile industry if Apple brings it to the iPhone. In many markets—especially the US—most mobile phones are distributed by operators and locked to those networks under multi-year contracts. People rarely switch operators, partially out of habit and satisfaction, but mostly because it's annoying to do so.
Apple has already taken a more direct role in handset distribution than some of its rivals—like Samsung or HTC—via its retail outlets. So it's smart to try taking over even more control. (Recall that Steve Jobs once referred to mobile operators as "orifices.")
A more compelling, user-friendly scenario might see your phone number and crucial services—messaging, voicemail, etc.—tied to your Apple SIM, and a vibrant marketplace where carriers compete for your business. This is already sort of what Apple is about to offer for the iPad.
Imagine booting up your iPhone for the first time and seeing four competing offers for your business from different operators—with short or no contract duration. Or an even deeper integration where Apple bills you as a virtual operator and constantly shops for the cheapest connection—perfect for those who travel overseas frequently.
These are actually some of the same scenarios I imagined Google might have tried five years ago when it first launched its Nexus phones. But Google has actually done very little to disrupt the mobile industry. Apple just might.
Would operators give up their customer relationships to work with Apple? The real question is whether they'll have a choice. Consumer demand for the iPhone is still unbelievably strong, and in competitive mobile markets, there will likely always be scrappier upstarts—like T-Mobile in the US—that will make sacrifices to grow faster.
There's admittedly a lot between today's reality and this seemingly utopian future. But the new Apple SIM is a step in the right direction.