This post has been updated.
Hong Kong's riot police are breaking out the pepper spray once again after a throng of pro-democracy protesters descended on Mong Kok, in downtown Kowloon. The violence erupted hours after Alex Chow, the leader of the Federation of Students, confirmed that his group (paywall) would hold talks with the government next Tuesday (the government had pulled out of a previous round of talks). Here's a sum-up from the streets:
In a surprise raid in the wee hours of this morning, police drove out demonstrators from a major Mong Kok intersection, which they've been holding since then.
Joshua Wong, the leader of another student group, Scholarism, urged protesters to move from Admiralty, in downtown Hong Kong, to Mong Kok to defend the occupation zone there, reports the South China Morning Post (paywall). After work and school let out, large crowds of protesters arrived late Friday night (Hong Kong time) in an effort to retake sections of the road.
"Our strategy was to arrive all at once so we wouldn't be dragged off as easily by police," one protestor told reporter Joanna Chiu. Riot police reinforcements arrived to hold the intersection.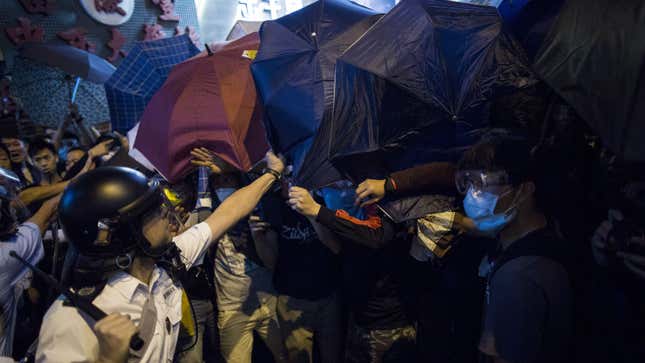 As they tried to penetrate police lines, police met them with pepper spray.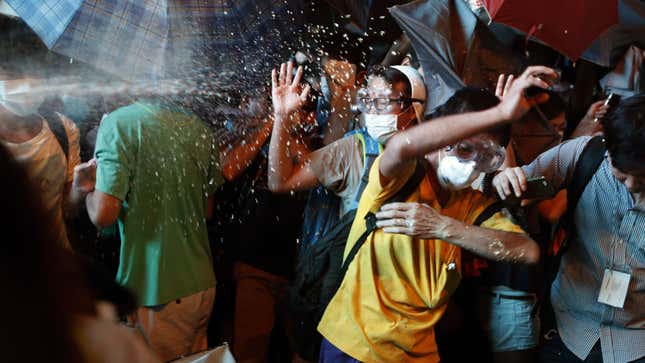 Police are using batons and riot shields as well.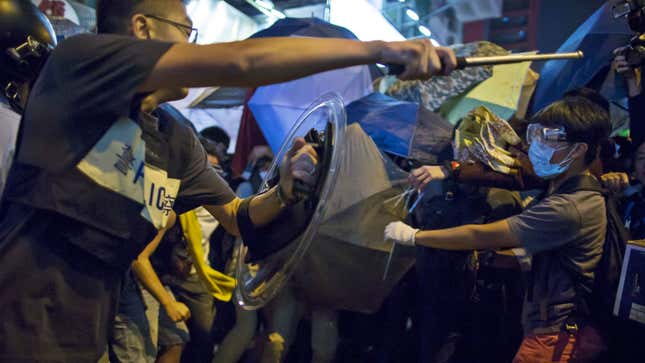 Many protesters shielded themselves from the pepper spray with umbrellas.
Others have fared less well.
Several police officers have been injured as well, says the SCMP.
Police are now yelling, "You have been encircled, surrender now!" according to sources at the protest.
Update (12.08pm EST): The police appear to have retreated:
Follow a livestream of Mong Kok here or here.