It's a major changing of the technology guard for corporate America.
Facebook's market capitalization darted ahead of IBM in recent weeks, as Mark Zuckerberg's social media behemoth saw its value rise to roughly $208 billion as of Thursday's close of trading.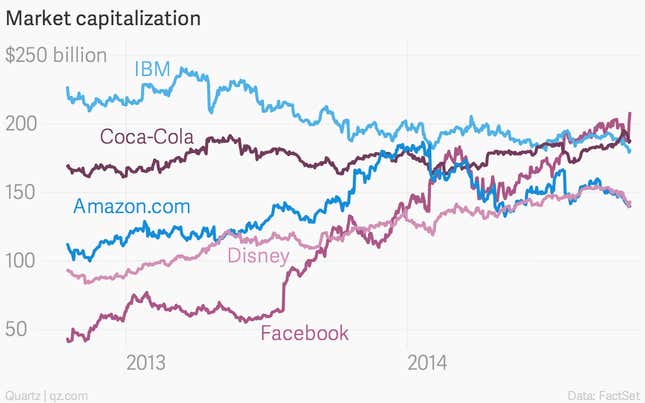 Thanks to a remarkable share surge over the past year, Facebook's market value has leapfrogged any number of the gold-plated names of American industry, including Verizon, AT&T, Coca-Cola, Walt Disney, Bank of America and Citigroup.
Facebook's shares—up 44% over the past 52 weeks—have fared far better than the broader S&P, which rose about 9% over the same period. The stock has gained mostly on the back of a solid earnings story that has quickly changed the story surrounding the shares away from its disastrous IPO and toward for Facebook to monetize its mobile growth. Facebook's earnings due later this month, will be another test of its ability to turn the stickiness of its website into profits.