The numbers: Pretty darn good. Chipotle's shares were already up more than 40% for the year, and the company just delivered another huge quarter. Sales were $1.08 billion, up a record 31.1% from the same quarter last year. That growth came primarily from a 19.8% increase in comparable store sales, the third consecutive quarter of double digit growth.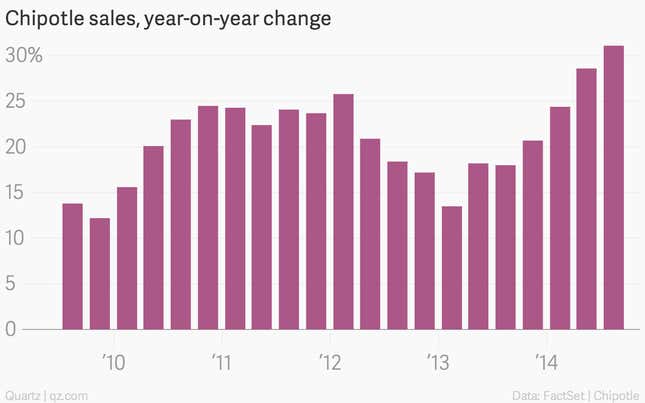 The takeaway: Price increases and increasing ubiquity can't seem to quash America's extreme fondness for the chain. The company has been opening around 40 stores a quarter at a steady clip, while substantially increasing sales in older restaurants. Expect stores to open at an even greater rate next year, the company projects 190 to 205 new locations. 
What's interesting: Investors have incredibly high expectations for the company. Even this impressive quarter sent the stock down 2% in after hours trading. It might be related to costs–the company reported higher food costs yet again, with beef, avocados, and dairy to blame.