Magnetic levitation, or maglev, trains are something of a scientific marvel. Like planes, the trains start their journey on wheels and end up in the air. When they're going fast enough, the magnetic force pushes and lifts the trains above the tracks. Without the friction between train wheels and tracks, they're able to travel at hundreds of miles an hour.
Japan is investing heavily in the technology, which promises to leave its famously speedy "bullet train" in the dust. It has already developed and tested the trains, and on Oct. 19 approved plans to build a Tokyo-Nagoya maglev train line. The trip between the two cities, which currently takes anywhere from 100 to 180 minutes, could be shortened to 40 minutes. The project, likely to cost more than $100 billion, is expected to begin next year and open in 2027.
In the US, the Northeast Maglev (TNEM), a company intent on building a maglev train line in the country's northeast region, hopes to build a $10-billion maglev train line on the Washington-Baltimore corridor. The Japanese government has promised $5 billion in funding for the project, and the Central Japan Railway Company is waiving licensing fees to use its maglev technology. Through this partnership, the Japanese hope that they'll be able to start an export market for its rail industry amidst competition from companies like Germany's Siemens AG and France's Alstom SA in the US.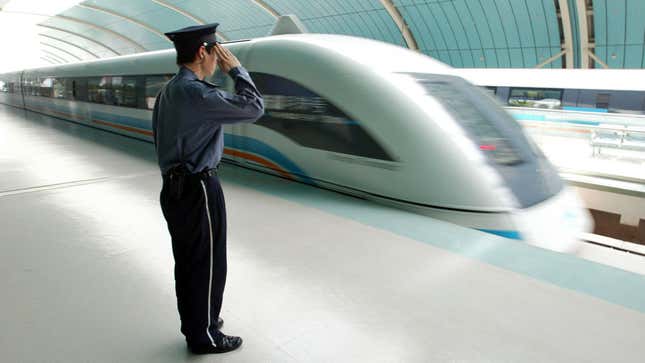 TNEM says with a maglev line, the trip from Baltimore to the nation's capitol would take just 15 minutes, while now it's over an hour long. The company also hopes to expand the line to New York, and says travel times from DC to the Big Apple would be reduced to an hour. (Currently the quickest rail journey, via Amtrak's Acela Express, takes 170 minutes.)
It still remains to be seen whether this enormously expensive project will come to fruition. This isn't the first time new tracks have been proposed but little accomplished. Amtrak had a $151 billion project to create faster lines between New York, Boston, and DC, but even if Amtrak is able to get funding (Amtrak's president and CEO, Joseph Boardman, has said he may need to look outside the US for that) it wouldn't be able to install its high-speed technology until 2030. The tracks also face opposition from groups like the U.S. High Speed Rail Association which is in favor of more conventional high-speed rail systems, arguing that they are more cost-effective and could cover more ground and service more people than $10 billion worth of maglev lines.
There are also some regulatory hurdles to cross. Last month, TNEM asked Maryland state for the right to redevelop the former Washington Baltimore & Annapolis Electric Railroad, a line that ran between the three cities in the early 20th century. If that is granted, the company will also need approvals from the U.S. Surface Transportation Board and other federal entities. Quartz has reached out to TNEM for comment, and will update this post if we hear back.
Still, TNEM's chief executive, Wayne Rogers, says the line could be completed by 2024, just in time for the summer Olympics—which Washington is hoping to host.