Muggles lamenting the end of the Harry Potter era have something to keep their spirits up: Harry Potter hotel rooms. You probably won't find Emma Watson roaming the halls of this themed boutique hotel in London, but there are replica Hogwarts rooms equipped with potion bottles, cauldrons and spell books for die-hard fans. The hotel is one of many trying to capitalize on the desire of cult movie followers to escape their reality. Boutique hotels—characterized by a unique, often theatrical experience— have been a bright spot for the hotel industry in the US and globally. These aim for the extreme escape:
The Georgian House, London
The website of this 163-year-old hotel near London's Victoria Station crashed on Oct. 27 thanks to ravenous fans clamoring to book its new Harry Potter-themed rooms (the hotel had unveiled them the previous day). The rooms come replete with four-poster beds, wooden trunks, and Bertie Botts Every Flavor Beans, according to the hotel's website.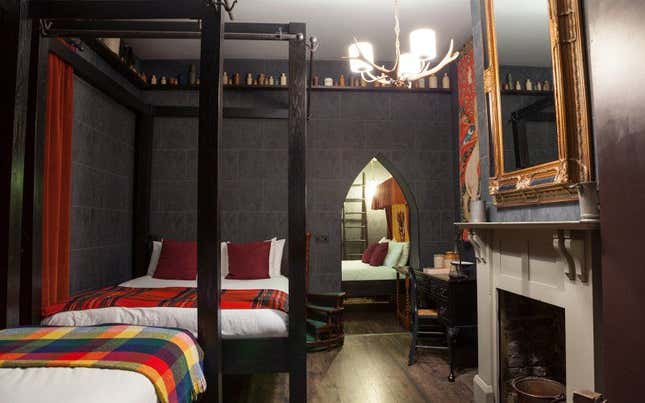 Hotel guests can book their Harry Potter stay as part of a package that includes a walking tour of the film's major landmarks as well as an official studio tour.  The nightly rate two adults without packaged extras is £209 ($337). Throw in a walking tour for a total of £249 ($401), and £363 ($585) to add on the studio tour.
The Shire of Montana, USA
Nestled in a Montana forest, the hotel is an adults-only tribute to The Lord of the Rings. It boasts a Hobbit house, fairy houses, and a Gandalf statue. Rooms will run you $295 a night.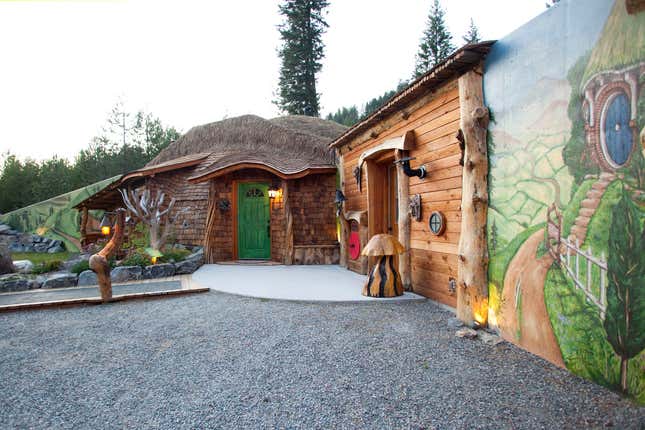 Poseidon Undersea Resorts, Fiji
The world's first underwater hotel presents a striking resemblance to the sets of underwater movies 20,000 Leagues Under the Sea and Poseidon. Taking the plunge requires a real investment; an underwater suite will cost £9,000 ($14,500).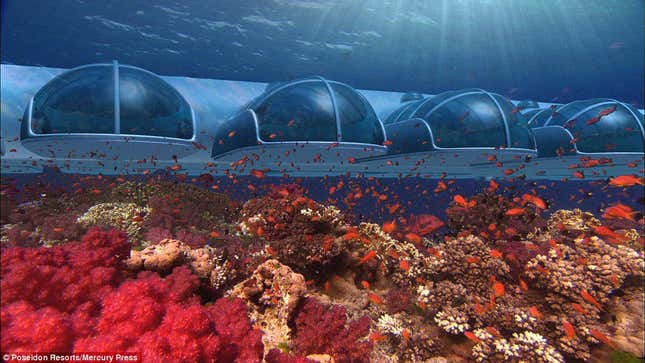 Seven Hotel, Paris
For those aspiring to live like Bond—James Bond—look no further than the 007 suite at the Seven Hotel in Paris. The room offers a Turkish-style steam shower, a golden gun lamp, a flatscreen TV stocked with every James Bond movie, mood fragrances, and yes, a 007 men's suit. Rates start at 447€ ($568). We condone the hotel's decision to put its Alice in Wonderland-themed suite, complete with funky clocks and stuffed animals, to bed.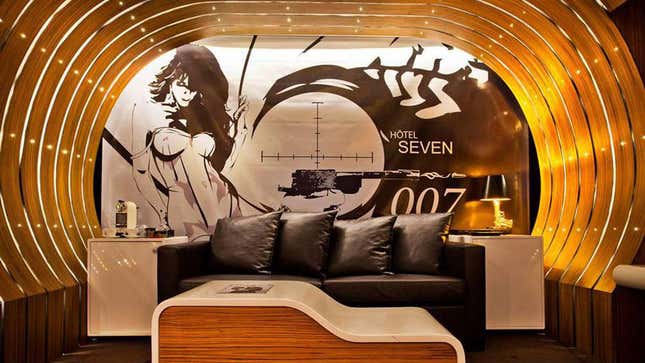 Berber Hôtel Sidi Driss, Matmata, Tunisia
This rocky hotel served as one of the major filming locations for the Star Wars movies. For $12 a night, about the price it would cost you to see the movie, you can stay in the interior of Luke Skywalker's childhood home, with decorations still intact.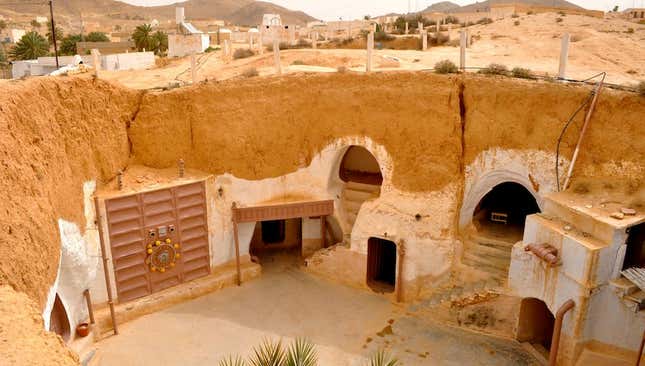 Disneyland Hotel, California, USA
For bandits at heart, Disneyland Hotel offers a Pirates of the Caribbean-themed penthouse. Features include a doorbell that sings to to the movie's pirate theme song, Spanish colonial-style furniture, Captain Jack Sparrow's revolver, a model pirate ship, and a replica of Davy Jones's "Dead Man's Chest." The suite is $2,500 per night, which you can split with up to six pirate lovers.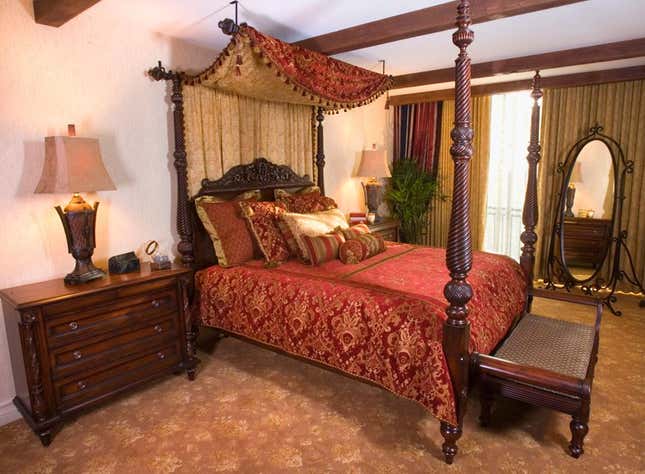 Eden Exoticism Planet Hotel, Taiwan
For $50 an hour, you can channel your inner Batman at this erotic motel. The room is decked out with a furry headboard showcasing the Batman logo, movie posters, two TVs, miniature gargoyle figurines, and a Batmobile that protrudes from the wall.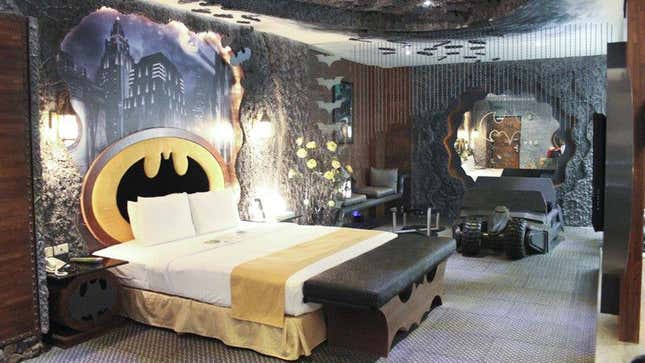 IceHotel, Jukkasjarvi, Sweden
The electrifying nightclub scene in Tron: Legacy inspired The Legacy of the River suite at Sweden's IceHotel. EL wire embedded in ice gave the room its Sci-Fi feel, but the theme of these art suites is ever-changing; the hotel takes in visiting artists and designers from around the world to showcase their art in these rooms annually. This year's art suites don't come cheap (pdf).