The numbers: Fair. Amgen said today it earned $1.24 billion in the third quarter, down from 9% from a year earlier, after spending $376 million on a restructuring effort. Revenue rose 6% to $5 billion. The company said it now expects annual revenue of $19.8 billion to $20 billion, up from the $19.7 billion it forecast previously.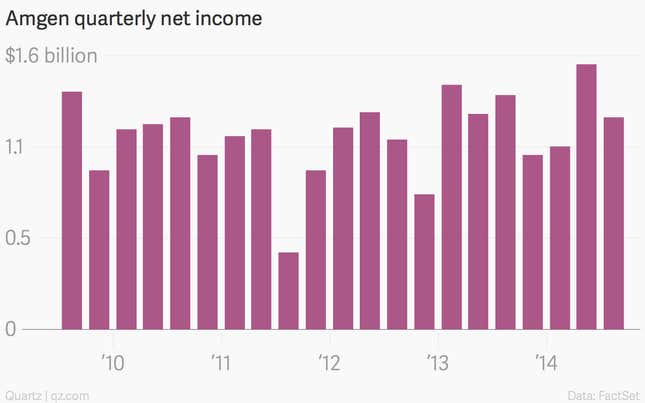 The takeaway: The biotechnology giant said that higher drug sales and lower costs propelled results. Sales of Neulasta, the company's flagship drug, which reduces risk of infection in patients who are receiving chemotherapy, rose 5% from a year earlier to $1.2 trillion. Revenue from Prolia, a drug for women at high risk of bone cancer, rose 43% from a year ago, to $255 million. Kyprolis, a new anti-cancer agent, generated $94 million in sales, up 21% since June 30.
What's interesting: What Daniel Loeb thinks. The activist investor, whose hedge fund owns a stake in Amgen, recently called on the company to consider breaking itself in two as a way to unlock growth. While Amgen sounded as though it was blowing off the suggestion when it responded that it "frequently receives input from shareholders, including ideas like those offered by Third Point," the company seems to have heard the message.
The latest quarter marked the first since management announced in July that it would slash up to 15% of its workforce and close plants in two states, part of a series of steps to speed products to market and boost profitability. Amgen is slated to meet Tuesday with investors to review its plans, which include spending as much as $500 million more on restructuring between now and the end of next year.