Stop me if you've heard this one before. A bank's core business is solid, executives argue, if it were not for the pesky and persistent legal problems that keep putting billion-dollar dents in its results.
Yesterday, that was the story from UBS; today, it's Deutsche Bank's turn to tell a similar tale.
The German bank reported a third-quarter loss today, thanks largely to—you guessed it—an outsized litigation charge. Deutsche Bank was hit by €894 million ($1.1 billion) in legal costs in the three months to September, enough to push it into the red. But the bank can take some comfort in the fact that litigation costs were even higher in the same quarter last year, at €1.2 billion.
This is what passes for progress at big investment banks these days.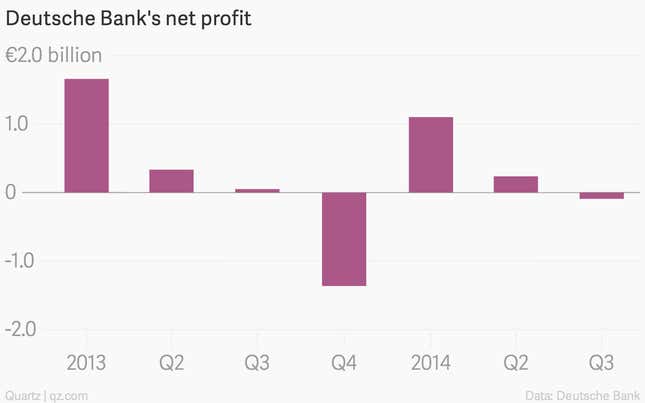 The smaller litigation charge doesn't necessarily reflect fewer legal entanglements. Deutsche Bank reckons that it now faces some €1.7 billion in future legal costs, up from the estimate of €1.5 billion it made at the end of last year.
The bank is close to settling with US and UK authorities over allegations that it manipulated interbank interest rates. It is also under investigation for violating US sanctions in places such as Iran, Syria, and Sudan. A probe into foreign-exchange market manipulation is in its early stages, although Deutsche Bank executives told analysts today that the "good news" is that other banks will probably face even bigger penalties. The bank has already paid some €5 billion to settle various legal issues in recent years.
The scope of the bank's future legal challenges was the subject of several questions on a conference call executives held with analysts today. And there was an occasional query or two about the actual business of banking. Despite a decent performance in its core units—trading revenues were up by 14% in its latest quarter—Deutsche Bank's return on equity so far this year is a measly 3%, thanks to its various legal, regulatory, and sundry other extracurricular expenses. It's no wonder that this, then, is what preoccupies the bank's management, analysts, and investors.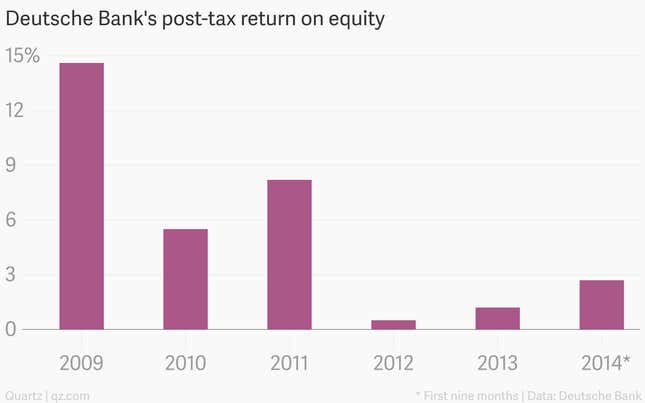 A management reshuffle unveiled late yesterday reflects the bank's shifting priorities. Christian Sewing, head of group audit, will be promoted to the group's board, taking responsibility for legal issues as head of the ominously-named "Incident Management Group." As co-CEO Anshu Jain explained to analysts, "It's very clear that litigation legacy, coping with all of that, has proven to be more challenging for us in the industry that we would have thought. So, the first thing we're doing is to give that a dedicated resource at the board level."
At the same time, CFO Stefan Krause is being shifted to a new role at the bank. Since joining in 2008, the finance chief has come under fire for the bank's ongoing legal problems, as well as the general quality of its reporting (paywall). In his place, Deutsche Bank will turn to Marcus Schenck, who recently spent six years as CFO of E.ON, a German utility.
Throughout the financial crisis, investment banks were criticized for behaving like casinos, and told they should act more like utilities. Laid low by its lingering legal woes, Deutsche Bank appears to be taking this advice literally.