HONG KONG—Hong Kong's pro-Beijing legislators are calling for an investigation into the funding behind the protests that have shut down blocks of city for weeks, and religious groups that have supported the movement are a potential target.

The financial strength of the movement is "beyond imagination," said Ip Kwok-him, a member of the pro-Beijing DAB party, during a Legislative Council meeting yesterday, as he and his political allies called for an investigation. "The Occupy founders and students are only puppets manipulated by others," he alleged, adding that many local churches with American ties had provided shelter and food to the protesters. 
Churches aren't the only concern: "There have been plenty of supplies to protesters," said legislator Regina Ip Lau Suk-yee of the pro-Beijing New People Party, who questioned the source of bamboo and cement used to make barricades.  "The water may be bought by themselves, but how about the barricades made of bamboo sticks and the cement? Who brought them in and made it?" Legislators will vote later today on whether to go ahead with an investigation.
Beijing and its allies in Hong Kong are determined to link the protests with "foreign forces," and particularly US support. That link seems tenuous, or even nonexistent at the protest sites themselves, but has been repeated several times by officials, including Hong Kong chief executive CY Leung, who said he would disclose evidence about the "foreign forces" at the "appropriate time."
Ip did not provide any more details about the churches he was referring to at the council meeting and his office did not respond to emailed questions. But his remark is important, because he is one of the first critics of the protests to question the role Hong Kong's churches have played.
There is a certainly a very visible Christian presence at the protests, with churches offering food and shelter to protesters and hold prayer vigils.
Many of the movement's high-profile leaders, including Joshua Wong and Occupy Central co-founders Benny Tai and Chu Yiu-ming, are closely affiliated with churches (Chu is a Baptist minister). Occupy Central leaders even held early press conferences at a church, as the picture above shows, and prepared for the protests with prayer:
Non-Christian religious groups have also been involved. A Buddhist charity, for example, takes care of plastics pickup and recycling from the central Hong Kong protest site, one of the organizers of the site's impressive recycling operations told Quartz.
Organized religion's role in the protests shouldn't be that surprising—about half of Hong Kong's 7 million people are affiliated with a religious congregation, according to official statistics: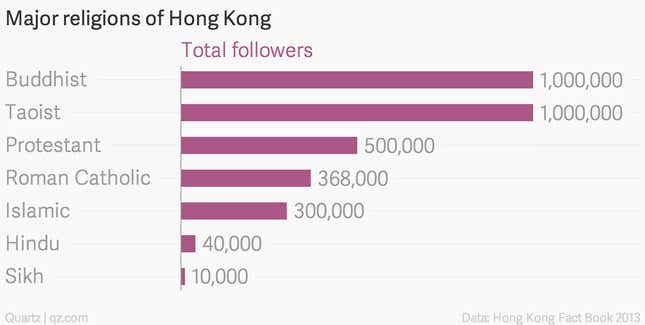 Many Christian churches in Hong Kong have international ties, including pastors who are not native Hong Kongers, like the Kowloon International Baptist Church, whose American pastor previously worked in Texas for more than a decade.
Churches in Hong Kong enjoy more freedom than the rest of China. On the mainland, for example, the Catholic church no longer reports to the Pope in the Vatican, but to a Communist Party head; Hong Kong's reports to the Holy See. A recent crackdown on Christian churches and Muslim practices on the mainland has led some to declare China is starting a "war on religion."
Hong Kong's protesters responded to the news that churches could be investigated with a new entry in an ongoing online homage to the "Mr. Men" books, a "Mr. Jesus" with a yellow umbrella.