When the California-based clothing company Patagonia released a short animated video last month—"What the Pluck?"—it sparked a flurry of media coverage of the gruesome live-plucking and force-feeding that the geese who grow the feathers for down coats are subjected to.
For an outerwear brand that does a brisk business in $450 down jackets (despite its pleas to customers to "buy less"), this might seem a strange message to spread. But for Patagonia, which has made its commitment to social responsibility and environmental sustainability a central part of its message, the ethical alarm came with an assurance that the geese used in its own down jackets—going forward—are treated humanely (unlike those of cheaper competitors selling "conventional down").
Patagonia has developed a process which it says ensures that no birds were live-plucked or force fed: the 100% Traceable Down Standard (pdf), which requires third-party auditing of the entire supply chain. In the spring of 2013, the company launched the program, and promised that all its down would be 100% traceable by fall of this year.
Patagonia's moral high ground on this issue was hard-won. The commitment comes four years after an animal rights group, Four Paws, accused Patagonia (pdf) of live-plucking its birds on Hungarian farms. The company denied Four Paws' claims—in 2009 Patagonia had asked its suppliers to ensure that its birds weren't live-plucked—but later found out that the geese on the farms it was sourcing from in Hungary were being force-fed to fatten them and engorge their livers for foie gras. (Down is a by-product of the meat industry, and many birds used for down are also slaughtered for their meat and livers.)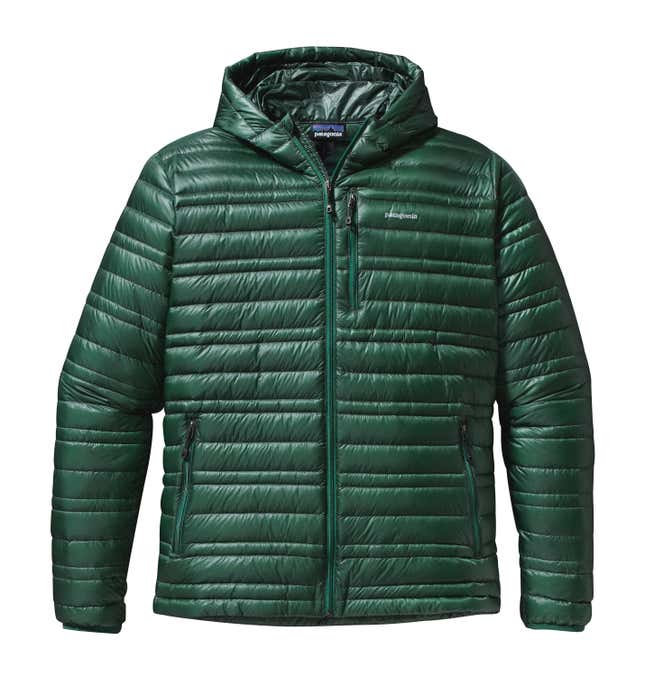 Conventionally, birds used for down are born at parent farms where they can stay up to four years as they lay eggs and are plucked for their feathers as many as four times a year (pdf). The painful process tears the birds' skin and can cause enough pain to kill the birds. China produces 70% of the world's down, exporting about $1.9 billion annually. Eastern European countries, including Hungary and Poland, are also major sources.
Birds are then taken to breeding farms, which is where force-feeding most commonly occurs. When they are ready to be killed for their meat, the birds are moved to slaughterhouses. Lastly, their bodies are taken to down processors for post-mortem plucking.
In Patagonia's system, an independent auditor makes sure no birds are live-plucked or force-fed through every step of the supply chain via periodic audits and other requirements (pdf). Egg-laying birds are kept at parent farms for up to four years, laying eggs and not being plucked. Then they are taken to slaughterhouses, where the birds are slaughtered for meat and plucked post-mortem.
One alternative to plucking feathers, though not as profitable, is "gathering" them following the birds' natural molting cycle (pdf), according to the European Food Safety Authority. However, on large farms, not all birds molt at exactly the same time and even with gathering, there is a chance some feathers may be live-plucked. Consequently, Patagonia tells Quartz, its suppliers do not gather down until after the birds are slaughtered.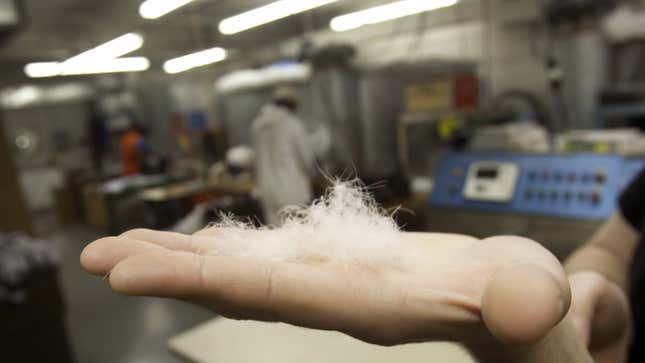 Patagonia isn't the only down coat company working to reduce cruelty in the down production processes. In January 2014, the North Face announced its own model, the Responsible Down Standard (RDS). Partnering with Control Union Certification and Textile Exchange, an accredited third-party certification body, the North Face has said that its RDS clothing will go on sale in the fall of 2015.
The Vancouver-based outerwear brand Westcomb sources its down from Canadian Hutterites, a religious group with a tradition of ethically raised and slaughtered geese. And Coleman, working with the animal rights group PETA, completely stopped using natural down in its jackets and sleeping bags, choosing synthetics instead.
It's unlikely that most companies using down will switch to synthetics. Down has a greater warmth-to-weight ratio (pdf) than synthetic materials such as Polarguard, Primaloft, and Thinsulate, and brands such as UNIQLO, whose much-loved down jackets and vests are ubiquitous in cities around the world, depend on it.
But in the crowded market for cold-weather outerwear, a socially responsible agenda could distinguish a brand and boost sales. "Down, for Patagonia, is a significant part of our business," Patagonia's spokeswoman, Jess Clayton, tells Quartz. "Traceable will only help."
And once that ethical bar is raised, companies that don't meet the new standards can suffer. For example, the French-Italian luxury brand Moncler recently saw a drop in its share price after a TV show alleged bad treatment of the geese used for its $1,000-plus coats, setting off a storm of critical social media attention.