After exploding onto the original content scene in 2013 with House of Cards and Orange is the New Black, Netflix has been in a bit of a lull. Its revivals of Arrested Development and The Killing were perhaps better off in the TV cemetery, and the horror series Hemlock Grove was a serious misfire. "This is the sort of show that would've been laughed off the screen after an episode or two on broadcast," Zack Handlen wrote in his review of Hemlock Grove for A.V. Club. "And yet there it sits on Netflix's electronic shelves, a pulsating puss-ridden boil waiting for the next unsuspecting victim to click through." Ouch.
Perhaps its most notable product in the wake of House of Cards and Orange is the New Black is an animated series about a talking horse that received mixed reviews. To date, Netflix hasn't launched any shows matching the ambition of its two original hits, but that could soon change.
Investing heavily in original content, Netflix has a big and bold slate of new shows set to debut over the next year. With its stock in the doldrums and buzz around competitor HBO as high as ever, Netflix needs new hits. One of them might be among this batch of impressive projects.
Marco Polo
When it's coming: December 12, 2014
Who's involved: A cast and crew of mostly unknowns, brought to you by the makers of the Oscar-nominated Norwegian film Kon-Tiki.
What it's about: The series follows everyone's favorite merchant adventurer as he journeys through central Asia and meets Kublai Khan. While based on Polo's book, it seems to be done in the vein of HBO's Game of Thrones—meaning lots of swords and sex. Judging by the trailer, it's shot beautifully.
And, like Game of Thrones, it filmed on location all over the world (Kazakhstan, Malaysia, and Italy, namely). The first season of Game of Thrones cost between $50 and $60 million, while Netflix spent $90 million on Marco Polo.
Bloodline
When it's coming: March 2015
Who's involved: Kyle Chandler (otherwise known as Coach Taylor of Friday Night Lights—one of the greatest television characters ever) alongside other veteran actors like Sissy Spacek and Linda Cardellini. It's created and produced by the trio behind the acclaimed FX series Damages.
What it's about: All we know right now is that it follows a family in the Florida keys that harbors dark secrets. Perhaps it'll be one part The Sopranos, two parts Justified. But we don't really need to know much else, because Kyle Chandler is in it, and Kyle Chandler is a winner.
Daredevil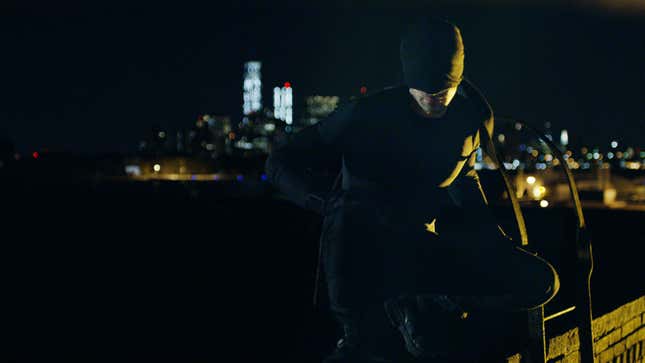 When it's coming: May 2015
Who's involved: Daredevil was developed by Drew Goddard, an admired TV writer who wrote some of the best ever episodes of Lost and directed the 2012 movie The Cabin in the Woods. Charlie Cox, best known for his role in HBO's Boardwalk Empire, plays the titular Marvel superhero. It also stars Vincent D'Onofrio and Rosario Dawson.
What it's about: Blind lawyer Matt Murdock turns to crime fighting on the streets of New York. Television is inundated with superhero shows, but this one seems like it could be one of the goodies. Hopefully it makes us forget that the 2003 movie with Ben Affleck ever happened.
Sense8
When it's coming: TBD 2015
Who's involved: The Matrix creators Andy and Lana Wachowski and Babylon 5 creator J. Michael Straczynski head a creative team steeped in sci-fi history. But the cast is filled with relative unknowns.
What it's about: Eight people from different corners of the globe are suddenly and mysteriously telepathically linked. To match its international cast, the high concept series filmed all over the world, spanning four continents.
Netflix is also developing Narcos, a series about infamous Colombian drug kingpin Pablo Escobar, and The Crown, a series about Queen Elizabeth II.
It's unlikely that all these shows succeed, but at least one should stick. The old adage rings true, especially in the TV industry: the bigger the show, the harder it falls. Netflix has invested a lot in all this new programming, and it needs to see a return on that investment.