It's rare to see a liquor company give up an entire brand in exchange for a piece of another. But that's what Diageo, the world's largest liquor company, is doing with Bushmills Irish Whiskey. It's selling its entire Bushmills line to Jose Cuervo to acquire the other 50% of luxury tequila brand Don Julio (the half it doesn't already own). Don Julio did about $168 million in sales last year, most of them through Diageo. Bushmills sales totaled around $75 million.
Both companies are using the deal to diversify their holdings. Based on its sales and growth potential, Don Julio looks like a good deal for Diageo. By buying all of Don Julio, Diageo gets more exposure to the luxury tequila, which has been growing faster than its mainstream liquor brands like Smirnoff and Captain Morgan. In fact, Don Julio is among the fastest and most consistently growing liquor brands in the US, tequila's biggest market: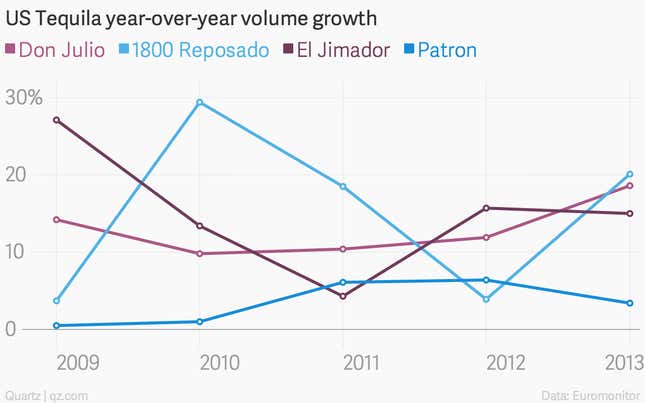 The company tried to buy all of Jose Cuervo in 2012, but couldn't agree on terms. Even acquiring the Don Julio piece of it gives Diageo has plenty of room to run; the brand sold a bit more than two million liters of tequila in the US last year, compared to Patron, which sold 18 million liters with a much bigger investment in marketing. With the right marketing, Don Julio can take advantage of the interest in high-end tequila inspired by Patron.
For its part, Jose Cuervo can use Bushmills to gain more international exposure and beef up its non-tequila holdings. Bushmills has a smaller US presence but is growing at a 7% clip worldwide. Jose Cuervo, which owns the world's biggest tequila brand by far, is underexposed to whiskey. Irish whiskey was the fastest growing whiskey worldwide last year, and has eclipsed tequila in volume and value growth for several years.
But the vast majority of that growth has come from the US and has gone to the more heavily marketed brand Jameson, a competitor owned by Pernod Ricard. If the company can position 250-year-old Bushmills as an alternative to Jameson, the brand could deliver big growth.