This is part three of our holiday gift guide for your Quartziest friends and relatives. Collect all the installments here.
Whether you're a cord-cutter or a cable loyalist, you're probably overjoyed, if overwhelmed, by the variety of television at your fingertips. Indeed, what is now termed the "Golden Age of Television" has brought a cornucopia of quality TV shows, apps and services for accessing them, and sleek, state-of-the-art viewing surfaces.
This year alone we saw HBO, CBS, and Showtime, among others, announce they will soon offer standalone internet subscriptions, proof that it's becoming easier to watch what you want, the way you want it. As the old ways of television-watching are replaced by the new, we focus here on the gifts worthiest of video enthusiasts anxious to stay ahead of the curve. Because when television is great, there's no shame in feeding your loved one's addiction.
The best digital media player money can buy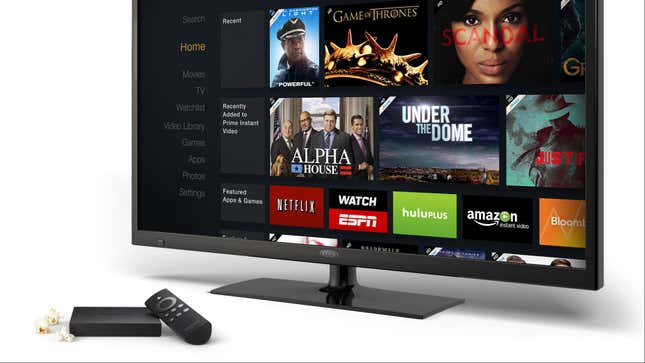 Fire TV — Amazon — $84
The Amazon Fire TV, in our humble opinion, offers the best overall user experience of any set-top box, narrowly edging out the Roku 3.  Its quad-core processor and 2 GB of RAM make for heavenly interactions with the Fire TV, and its voice command feature actually works. The remote's design is lightweight, intuitive, and simple, making the remotes for most other TV and set-top boxes look wildly overdone. And if you're into games, the Fire TV offers plenty (you can buy the optional $40 controller here).
One drawback: Unlike Roku and Apple TV, right now it doesn't support HBO Go, though the app is apparently on its way. In the meantime, if you want a fast, powerful, easy-to-use, and innovative media player to host just about everything else, Amazon's Fire TV is it.
Create a home theater in any room, on any surface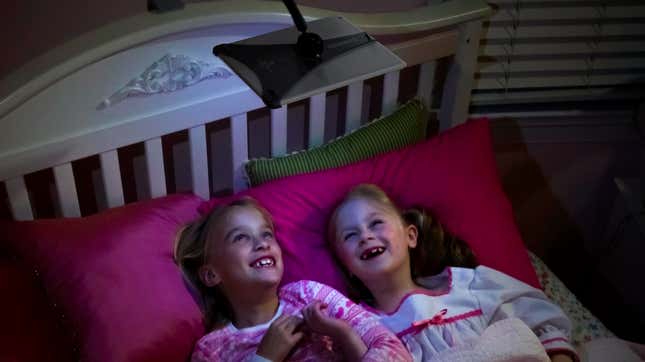 HoverBar 3 for iPad — Twelve South — $99.99
The HoverBar 3 from Apple-exclusive designers Twelve South is a unique and practical accessory to the iPad (it works with all versions of the iPad except first-gen). The image above sums it up well—the HoverBar hooks seamlessly into the iPad and can be attached to pretty much any desk, ledge, shelf, screen, or countertop for hands-free viewing. The arm bends in all directions, turning your iPad into a movie screen and your bed (or even bathroom) into a theater.
It's lightweight but sturdy, and can be easily removed from the iPad for when you need to take your device on the go. The clip also uses a ball tip, so the iPad itself can tilt and swivel into optimal watching position. If you know someone who uses an iPad to watch movies or shows, the HoverBar is the perfect accessory.
A one-way ticket to another dimension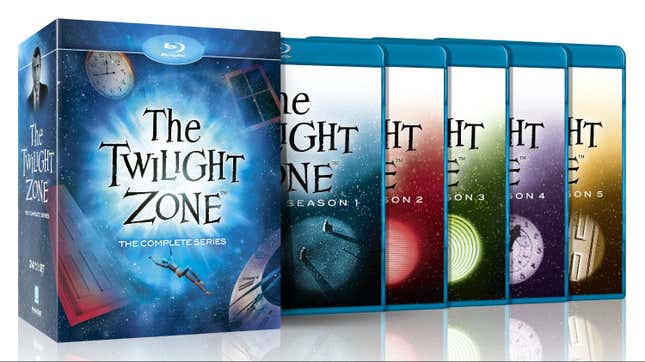 The Twilight Zone: The Complete Series (1959-1964) — Blu-ray — $129.99
The lucky recipient of this gift will relive television history, entering a fifth dimension beyond what is known to man. The Twilight Zone is required viewing for those who consider themselves avid TV fans, especially if they like sci-fi, suspense, or horror. Rod Serling unequivocally changed television for the better with his 1960s CBS series. You can do the same for someone's 2015 by buying them this box set.
Fifty years after its first run, the series is as binge-worthy as the modern-day shows that have made TV marathons a thing. Don't be dissuaded by the fact that most of the series, except for Season 4, is available on Netflix. The box set is worth owning because: 1) Each viewing reveals yet another layer of meaning; 2) The show left an indelible mark on network television, making it something of a collector's item; and 3) Not only does the box set contain all 156 episodes, it has oodles of interesting special features like Rod Serling's college lectures and audio commentaries about most episodes.
Modern TV history 101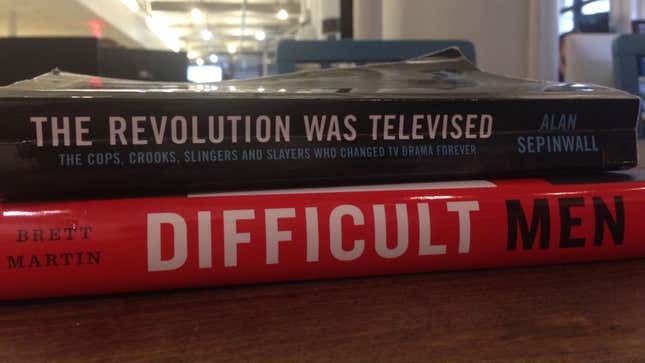 The Revolution Was Televised — Alan Sepinwall — $12.79
Difficult Men — Brett Martin — $12.38 (paperback), $20.47 (hardcover)
These are the two seminal books written about the "Golden Age" we're living in. Sepinwall traces the genesis of 12 landmark series—The Sopranos, The Wire, Lost, Mad Men, and Breaking Bad, to name just a few—and shows how the current TV climate came to be. Martin's work is similar, following many of the same shows but also delving into what makes their creators tick and how TV's complicated leading man became the trope it is today. Both books are excellent and showcase some seriously in-depth reporting.
Anyone who reads these two books will quickly become a modern TV scholar.  They're interesting even for casual fans of the medium. For die-hards, they're like bibles.
A cable bundle that seems too good to be true, but actually exists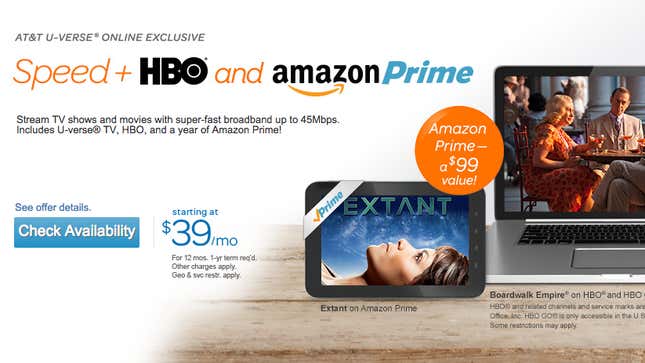 TV, Internet, HBO, Amazon Prime bundle — AT&T — $39/month for 1 year
Attempting to reel in potential cord-cutters, AT&T rolled out a cable and internet bundle in the US a few months ago with some massive perks. The $39-a-month package (dirt cheap by industry standards) comes with HBO (and HBO Go) and a full year of Amazon Prime—which, yes, includes both Amazon Instant Video and all of Prime's delivery benefits. The catch is that after a 1-year term, you lose the Amazon Prime subscription and your cable rates are hiked back up to normal prices (and you have to live in an area where AT&T's U-verse is available). Still, a year is a long time, and you don't have to renew after the year's up.
A cable package might seem like an odd gift. To be fair, it is. But this isn't your everyday, run-of-the-mill bundle with sky-high rates that aren't worth what you're getting. This is among the cheaper bundles you'll find from any cable or internet service provider in the US, and has perhaps the best bonuses of all. You can't procrastinate with this one, though—the offer ends Dec. 13.
The Quartz holiday gift guide