Markets, as is their wont, have done little more than shrug at the rising death toll in the latest flare-up between Israel and Hamas. But Shlomi Cohen, a columnist at Globes, an Israeli business newspaper, has a little reminder of why they should pay a little more attention:
With the regularity of a Swiss watch, every few years a minor war breaks out here, reminding investors of the need to attach a war-risk premium of some kind to Israeli stocks. In my view, if the Intel fab in Kiryat Gat is put out of action by a direct hit, the financial consequences on Wall Street will be greater than the aggregate market cap of all the Israeli technology stocks traded there.
Kiryat Gat, the site of Intel's main Israeli chip factory, which the company describes as "the largest single investment ever made in Israel by the private sector," is just a few miles from the Gaza strip: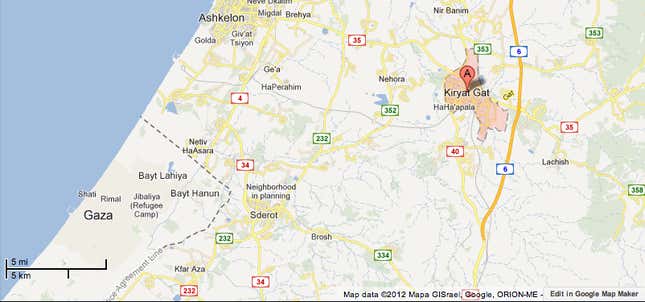 And, guess what: It's one of the places that Hamas's rocketeers have been targeting deliberately:
So far, Israel's "Iron Dome" rocket system—another testament to the country's tech prowess—has kept most of the rockets at bay. But it isn't perfect.