Today marks one year since Twitter triumphantly went public on the New York Stock Exchange. Back then, the company's goal was to avoid becoming the next Facebook. Well, it certainly achieved that. Both in terms of the IPO process itself, which was much smoother than that of its much bigger rival. But also operationally—and not in a good way.
In the run-up to the IPO, there was talk among investors about Twitter becoming bigger than Facebook. That now looks ridiculous. Twitter had 284 million active users at last count. Facebook had more than 1.2 billion. And few think Twitter will ever close the gap.
Meanwhile, although people were questioning Facebook's strategy a year ago, it now dominates mobile advertising (alongside Google) and has already moved into moonshot mode: splashing out on a virtual reality headset maker and planning to deliver the internet to unconnected, emerging market regions through drones.
Like it or not, the ultimate thermometer for Twitter's health its share price. The stock is holding well above the IPO price (although only big institutions got to buy in at that level). Whichever way you look at it, it's been a wild ride.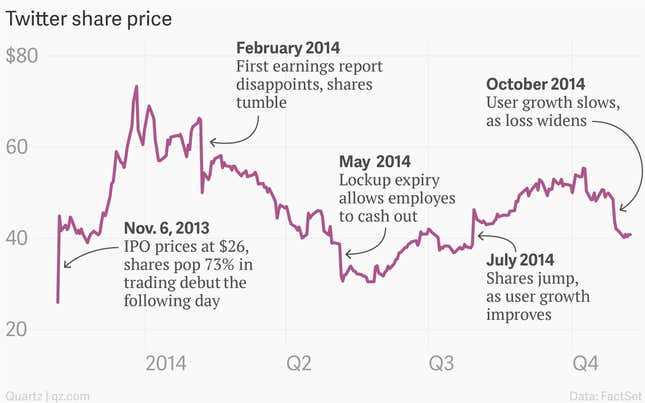 In the space of a year, Twitter has: disappointed on user growth (causing people to write eulogies for the service); ousted its second most senior executive; hired a new CFO (one of the bankers that led its IPO); and, much to the concern of power users, starting overhauling the very essence of its product.
But perhaps the biggest thing that has changed for Twitter since its IPO are the perceptions about what it actually is.
Twitter has had a problem convincing people to keep using its product. Now, the company is in the process of shifting gears by selling the message that its footprint is much bigger than its active user base: Twitter wants to grow and monetize the vast numbers of people who view and click on all of those Tweets embedded into news articles and third-party applications. There are many more of them than active users.
This is a perfectly reasonable argument and a totally logical strategy. And actually, Twitter's efforts to make money are progressing nicely.  It's just a different message than what the company and its euphoric supporters were spreading this time a year ago.
The company's huge valuation is built on the belief that it will transform from a relatively niche service used by journalists, celebrities (and, um, people in Indonesia), and go truly mainstream. The jury is still very much out on whether it can do that.