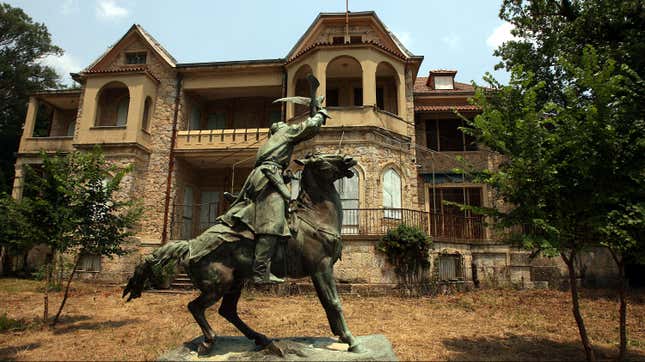 Greece's latest austerity measures could bring a smile to the faces of anti-austerity protestors in Athens. Greek authorities reportedly plan to sell off diplomatic homes across Europe to meet a €50 billion ($65.3 billion) pledge on the sale of state assets.
The austerity plan also includes selling or leasing a former royal palace outside Athens. But selling diplomatic homes in London or Belgrade would be far easier, for the simple reason that Greece lacks a complete and operational land registry system (PDF; see page 27). Greece is the only EU member state without a fully functioning land registry. It isn't expected to have one until 2020.
Efforts to sell property in Greece are typically hamstrung by government bureaucracy and a lack of clarity over who actually owns the land. A Greek lawyer and former cabinet official, Stratis Stratigis, has said that some land disputes go back nearly 200 years.
This leaves Prime Minister Antonis Samaras with a problem. He recently promised to speed up asset sales (which include real estate) to meet conditions tied to securing hundreds of billions in bailout aid. These privatization efforts have already been delayed because of elections and the high-profile resignation of the privatization fund's chairman this past June, followed by its chief executive, Costas Mitropoulos, in July. Mitropoulos said he couldn't do his job because officials were blocking efforts to sell assets. (Government officials said he quit because he was about to be fired.)
So back to London, where the Greeks keep a 10,000-square-foot consular residence in one of London's most expensive boroughs, Kensington & Chelsea. Estimated selling price, according to property investors London Central Portfolio: £20—£30 million ($32—$49 million.) When they're really well maintained, properties that size have sold for as much as £50 million.