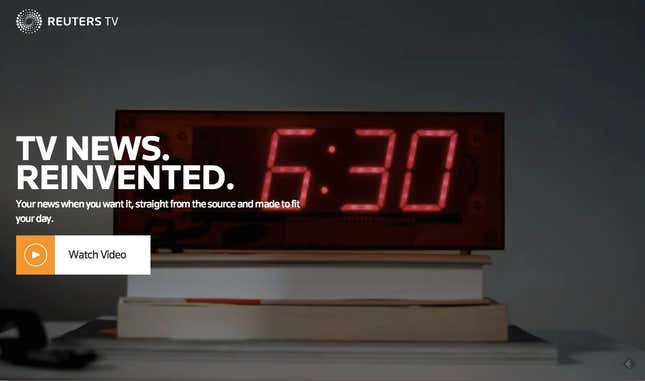 A curious dichotomy confronts the casual web surfer who visits Reuters.tv. If your browser window is more than 1,200 pixels wide—smaller than most laptop screens these days—you'll see the above picture of a rather retro-looking alarm clock stacked atop some books, with the time at a bracing 6:30 (a.m., one presumes). Any narrower, and the picture flips abruptly to a dust-blown desert landscape with the unmistakable figure of Burning Man in the background.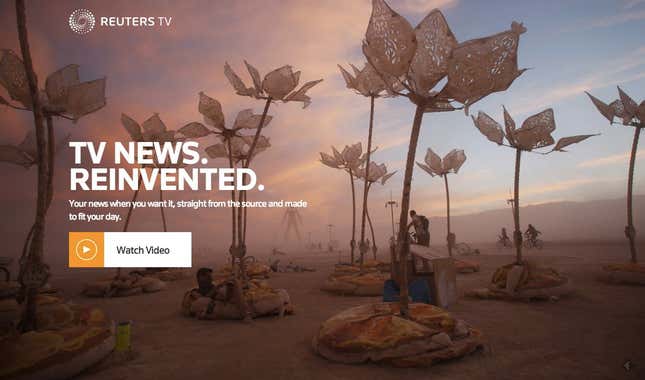 Both these images—the first suggesting scrappy, makeshift industriousness, the second wild, free-spirited creativity—are clearly aimed at a younger audience than Reuters, better known for its financial data and its wire-service dispatches, is known for attracting.
Reuters TV, which the company showed off at an event in New York last night, is intended to be a new kind of TV news for a generation that largely gets its news elsewhere.
Reuters TV comes in the form of a smartphone or tablet app that will download a tailored video news bulletin at any time of day or night. The content will depend on what's currently breaking, how long a bulletin you want—you can specify from five to 30 minutes—and your interests, which the app learns as you watch. (Reuters anticipates that people will set it to load up a bulletin before they leave home or work, and watch on the commute.) It also includes live feeds from Reuters TV crews around the world; should you so desire, you can spend your entire day watching people lounge around their tents at Hong Kong's Occupy Central.
All this is made possible by some in-house technology and a team of editors, who pull in reports from Reuters' massive network of worldwide correspondents and re-edit them into packages of several different lengths. It is slick, well-made, and undeniably clever. Nobody else has built so comprehensive a hybrid between the old format of TV news with modern ways of consuming media.
But will anyone use it—especially if they have to pay a modest but non-zero fee of $1.99 a month or $20 a year? That, as several Reuters people at the event admitted privately, is the big gamble.
Both the app and the promo video—a sizzle reel of the great news events of the 20th century—have the feel of something designed by people who remember the days when everyone crowded around the TV set to watch the news, and wish that everyone would discover that joy afresh if they can only get their news customized and on-demand like they get everything else.
That gamble will be put to the test when the service launches in January.