If the spending habits of American political operatives are an indicator, Uber may be right about its ability to expand the car service market beyond current use.
An analysis of US campaign spending data by Hamilton Place Strategies shows how quickly Uber replaced taxis (and, perhaps, volunteer chauffeurs) for rides costing less than $100 for political campaign staff. The company, founded in 2009, outpaced taxis within three campaign cycles (or five years):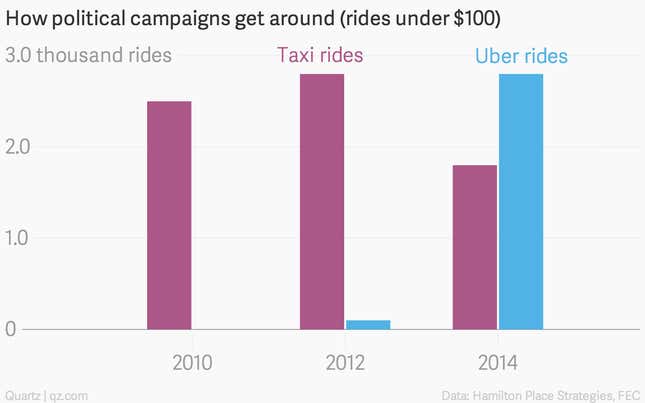 This data also doesn't include the last two months of the 2014 political campaign, so the effect could be even more pronounced.
These numbers provide evidence of Uber's ability to expand the market for car services, a key assumption of its sky-high valuation. While spending on political campaigns has risen, staff counts have not increased dramatically—in fact, there were likely fewer political operatives at work in 2014 than in 2012, a presidential election year. And yet the volume of rides has risen, which suggests that there's something about Uber's convenience that allows people to choose it more often than they otherwise would a paid car service.
And even as the total spend has increased, the average fare has remained stable, suggesting that Uber really does compete with taxis on price while getting more people to use them.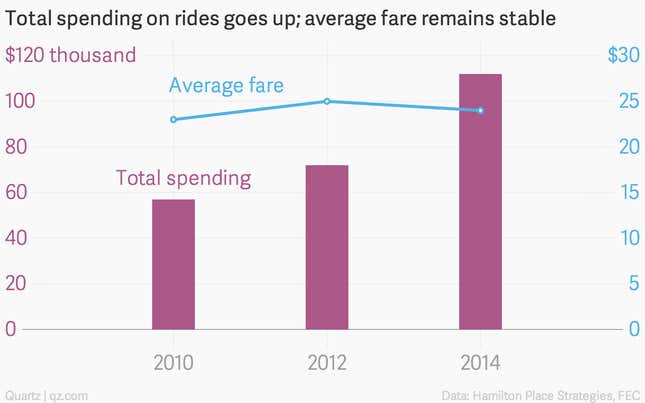 While this data is obviously a small picture of a very big market, there is one takeaway from all this that may worry critics of Uber who fear its political influence after it hired President Obama's former political consigliere, David Plouffe, to head up its lobbying operation: Uber usage has become ubiquitous among the political class who will be charged with regulating the company, and familiarity with the service will undoubtedly influence their treatment of the firm and its competitors. Or, as HPS partner Tom Kise puts it in his analysis, "Members of Congress…are voting Uber with their rides."