Wal-Mart has a commanding lead in the US grocery market. But an urgent memo to staff obtained by the New York Times (paywall) makes it clear that the company is struggling during another fairly anemic quarter.
The memo strongly urges a push to improve sales, to avoid waste by aggressively discounting things like older meat and bread, to improve fresh food sales, to more quickly remove rotting fruit and vegetables from displays, and to be better about rotating expired milk and eggs.
These are pretty much the core activities of any grocery store.
A visit by the Times to a Long Island Wal-Mart store found accounts of poor service and long lines, as well as dented and dirty milk jugs and empty displays, all in line with complaints that have become increasingly common. Despite all this, the company dwarfs its competitors, though growth has flattened somewhat: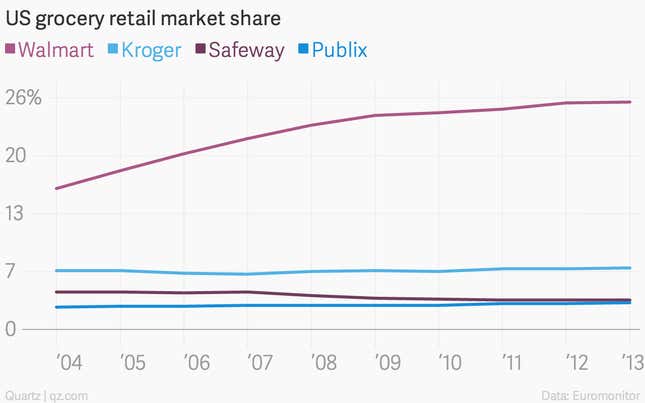 But US sales and growth have been sluggish for some time now, particularly on the grocery side. In today's earnings call (PDF), Wal-Mart US head Greg Foran said that grocery comparable sales were flat, and mentioned the problem, saying that the company was making progress on "improving freshness," and in the way it marks down damaged produce.
Analysts point to Wal-Mart's labor strategy, namely its focus on keeping costs down, as a potential source of problems. The company has substantially increased its square footage, but kept hiring relatively flat. Having spent a summer working the dairy case at a small supermarket, I can attest that rotating milk and produce is very labor intensive.
As the chart below shows, over the past 12 years, Wal-Mart has nearly doubled its square footage, but has grown permanent headcount by only about 10%.  Note that the associate levels are approximate (Wal-Mart hasn't recently broken out exact numbers), that these figures are only for full time employees, and that the company plans to hire 60,000 seasonal associates: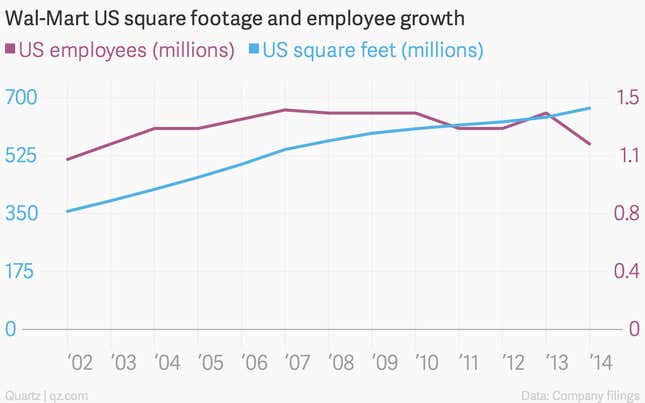 As the company has kept employee numbers relatively flat, it has increased grocery options, adding a variety of organic food in particular.
It's a tough dilemma for the company, which is extremely dependent on low costs and leading on price. Even as the company highlighted the need for better customer service in its urgent memo (paywall), it explicitly told managers not to exceed their budgets for employee hours.