TOKYO—Toshiba, the Japanese technology conglomerate with a lineage dating back to the 19th century, is looking for growth in a whole new way. In a sterilized clean room about 35 miles outside of Tokyo, where Toshiba used to make floppy disks in the 1980s and 90s, the company is now starting to grow thousands of lettuce plants as it expands into indoor agriculture.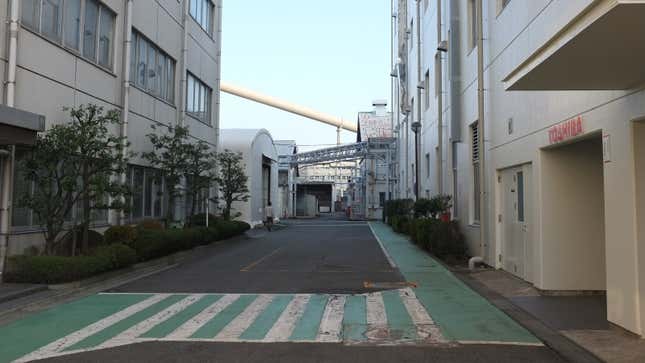 Toshiba hosted Quartz and other news outlets at the site in Yokosuka yesterday, including a presentation, a tour of the clean room, and a tasting session. The big idea, Toshiba executives explained, is to grow its healthcare business, which ranges from medical equipment to—now—systems for factory farming, including its new line of lettuces and salads.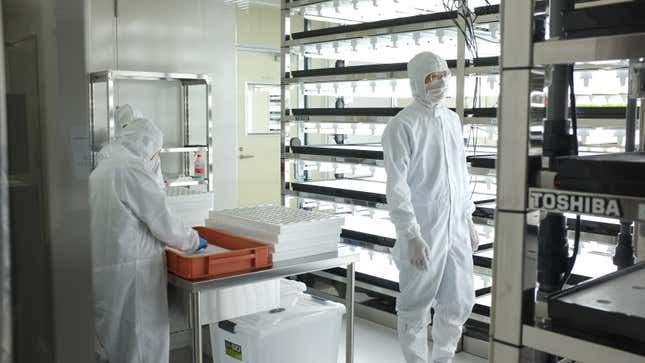 One of the first things you notice is the Toshiba logo everywhere. That's because indoor farming isn't just a fluke industry that someone here decided to enter. Toshiba already makes several of the components for its clean room farm, including lighting, water disinfection, power generation equipment, and tablets, which workers use to control the entire operation. It also, of course, operates clean rooms—this specific one had been dormant for many years. And it even makes the acid- and alkaline-water generation systems that everyone must use to wash their hands before entering the farm in special suits.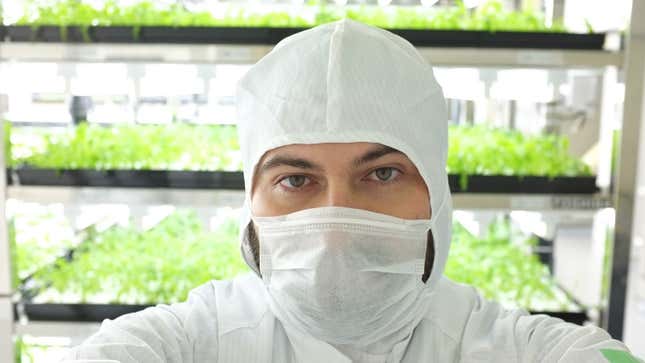 Why plant lettuce in a clean room? The obvious answer: Because it's clean. Everything is tightly controlled, including air pressure, temperature, lighting, bacteria, and dust. The result is a crop that doesn't need pesticides, doesn't have bugs, and doesn't need washing.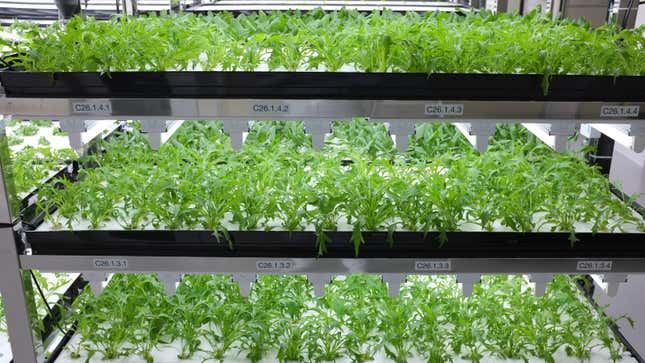 Inside the clean room, shelves are stacked up to nine high. There's a loud, steady whir of air conditioning and water machines. Fluorescent tubes make the narrow hallways bright, though Toshiba is now experimenting with LED lighting. It also does small experiments to see, for example, the effects of colored lighting on plant structure, nutrition, and taste.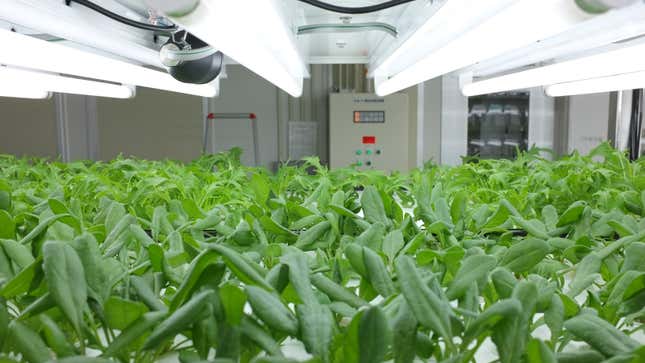 The goal is not just to operate this plant, but to sell these systems to others, including in places like Russia and the Middle East, where outdoor farming is tricky. But Toshiba is also going to feed Japan. It's projecting that it will produce 3 million heads of lettuce here per year—about 8,400 per day. And it expects this business to generate tens of millions of dollars in annual revenue. Toshiba, by the way, isn't the only Japanese company moving into this field, so to speak: Fujitsu grows lettuce in a semiconductor plant elsewhere in Japan, and Sharp is growing strawberries in Dubai.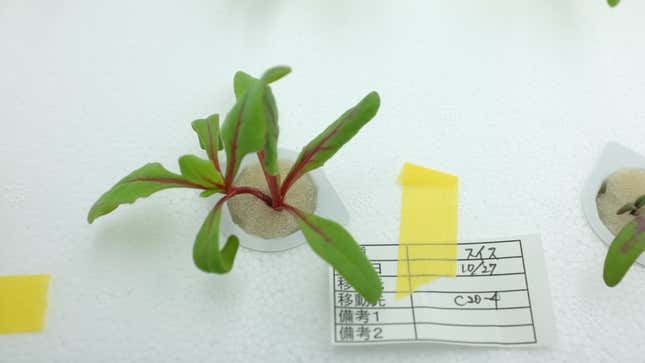 Toshiba started working on its farm about a year ago, and started seeding at the end of September. Lettuce takes about a month to grow in the facility. Today, it's growing a variety of leafy greens, including endive, Swiss chard, mizuna, arugula, spinach, and red oak lettuce. The company also plans to grow herbs, such as basil and coriander, and other vegetables later.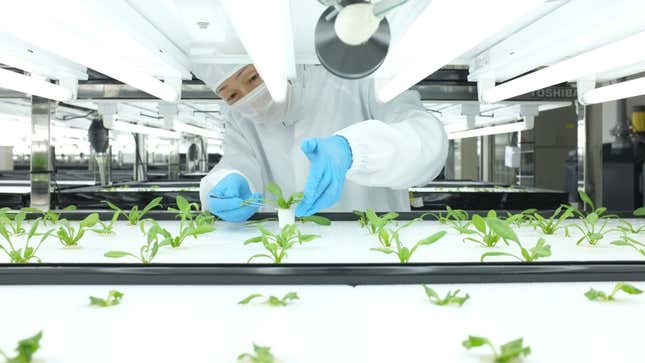 Its first product, launching next week, is a salad line that will be sold with and without dressing—Caesar and sesame for now—in Toshiba's own corporate cafeterias, as well as salad cafes in some Japanese department stores. The lettuce itself tastes like good lettuce. It's crisp and peppery, and feels clean. Toshiba also prepared a few small dishes for sampling, including a tasty gazpacho and a savory egg custard with red oak lettuce and black truffle, served with surprisingly refreshing, lettuce-spiked ginger ale.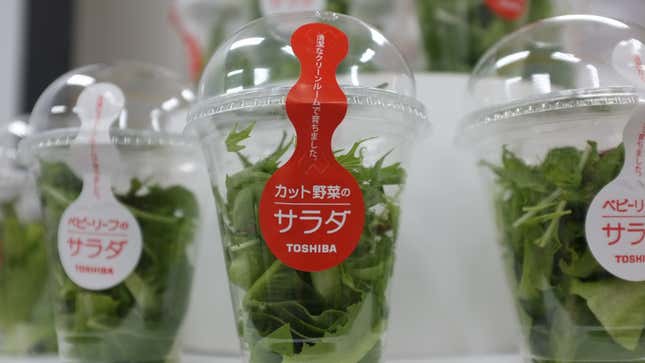 It is fascinating to see Japanese companies best known for their high-tech gadgets a decade ago look for growth in areas like agriculture and life insurance, especially as Google pushes into daring markets like self-driving cars and Apple moves into the luxury industry with high-end watches. But you have to admit it's creative—and tasty.