It's getting harder and harder to claim that cord-cutting in the US is just a myth.
In the third quarter, the top pay-TV providers—which account for 95% of the market—lost about 150,000 video subscribers, compared with just 25,000 in the same quarter last year, according to Leichtman Research Group. It's not an enormous loss from those providers' 95 million subscribers, to be sure—but it's a real one. The total number of pay-TV subscriptions in the US may well have topped out two years ago.
And the picture looks worse for traditional cable TV providers when you exclude telecom companies providing pay-TV, such as Verizon's FiOS service and AT&T's U-Verse: Those companies gained 330,000 subscribers, offsetting the losses of 439,000 subscribers from traditional cable and 40,000 from satellite cable.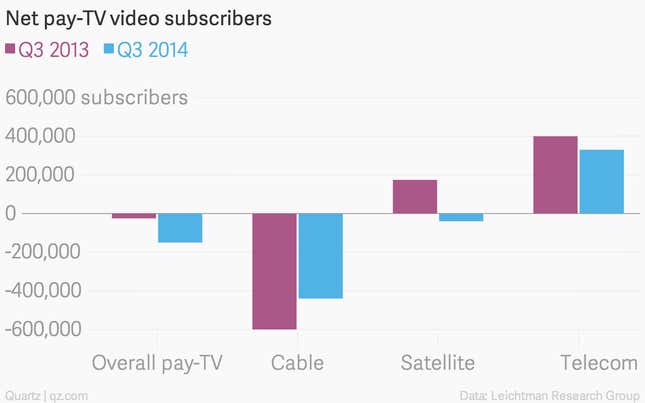 The cable giants Comcast and Time Warner Cable continue to hemorrhage TV subscribers, losing 81,000 and 182,000 this quarter, respectively. Satellite TV companies, which had remained relatively flat, have now started to lose subscribers. (The 40,000 satellite subscribers lost this quarter compare to a gain of 174,000 in the same quarter last year.) And even the newer entries to the TV market, the telecom providers Verizon and AT&T—which have been stealing video customers away from cable companies—are now gaining subscribers more slowly.
One note of optimism for pay-TV: Leichtman noted that the first and second quarters of 2014 showed some modest subscriber growth, meaning that over the past year major pay-TV providers lost a net of only about 105,000 subscribers.
"The pay-TV industry is characterized by seasonality," said Bruce Leichtman, president of Leichtman Research Group, in a release. "If recent history is an indicator, the pay-TV industry will follow the fourth quarter trend, and close 2014 with a modest subscriber gain in the quarter."
Still, with HBO and other popular premium channels ready to sell you their content over the internet without any cable subscription, the number of people cutting the cord is likely to keep growing. The major cable companies still have a firm hold on the American TV market, but cord-cutting is a measurable phenomenon that cannot be ignored.