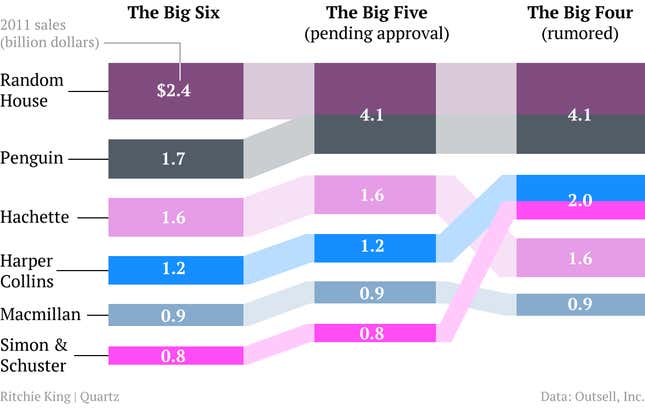 News Corp.'s HarperCollins and CBS's Simon & Schuster are discussing a possible merger, according to The Wall Street Journal (paywall), in another move toward consolidation in the book publishing industry.
The talks follow the combination of Pearson's Penguin and Bertelsmann's Random House, which will create the world's largest publisher, two-and-a-half times bigger by sales than its nearest rival, Lagardère's Hachette. That deal is still awaiting approval from antitrust regulators in the United States and Europe, who might look at something like the chart above and balk at evidence that competition in the industry is dwindling.
Our chart includes the so-called "Big Six" major trade publishers, ranked by trade and consumer sales in 2011, according to research firm Outsell. They will become the Big Five by mid-2013, if Penguin Random House is approved. HarperCollins and Simon & Schuster could make it the Big Four. And if Lagardere feels compelled to defend its territory, we could even be looking at the Big Three in short order.
The industry's consolidation is generally seen as a way to gain leverage on Amazon, which dominates the retail end of the book business even as it expands into book publishing as well. Publishers hope to maintain high prices on their books sold through Amazon and other tech companies like Apple.
News Corp. had previously attempted to swoop in and outbid Bertelsmann for Pearson but didn't succeed. The media conglomerate is already planning to spin off HarperCollins into a separate company with its newspaper units, which is where a combined publishing house with Simon & Schuster would likely land.