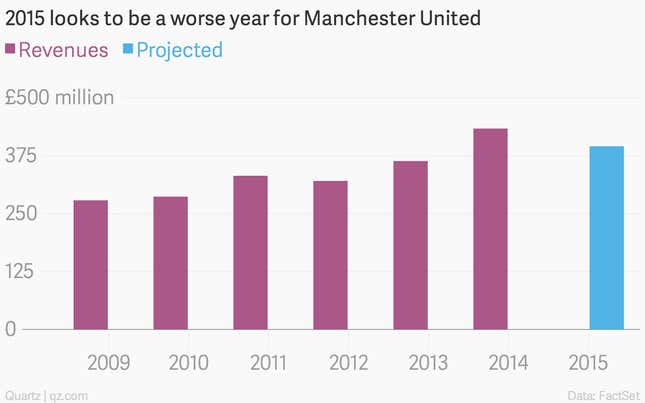 The numbers: The soccer club Manchester United said it made £8.9 million ($14 million) in net income in the three months through September, compared to a loss in the same period last year. Revenues fell 9.9% to £88.7 million as the club suffered from missing out on qualification for Europe's elite Champion's League competition last year for the first time since 1995-96. In particular, revenue from its TV rights deal fell 13% and revenue from attendance at matches fell 22% as a result of the lack of participation in the tournament. TV rights in soccer are big business.
The takeaway: No matter how much a soccer team tries to diversify its revenues, it's what happens out on the pitch that matters most. The team is still struggling to replace Alex Ferguson, the most successful manager in British soccer history who built several winning teams in his 27 years in the job. His successor, David Moyes, was fired after failing to keep them in Europe—and paid £7 million for 10 months of work. This year, the team has recruited an experienced Dutch manager, Louis Van Gaal, but the team has actually collected fewer points so far than under Moyes last year. Two years in a row without top European soccer will be a huge blow to the company—and to the fans.
What's interesting: Manchester United says that it is on track to make as much as £395 million in revenue for the full financial year, less than the record it made last year, but still more than in 2009, when it was in the Champion's League as defending champion. That is possible because the club is still attractive to sponsors: the club said it signed up Adidas to the biggest kit deal in sports—£750 million over 10 years—signed up three new sponsorship deals, and renewed two more, all in the last quarter. It comes after a lucrative summer tour of the US where it played five matches with more than 360,000 viewers. No wonder the team is keen to play exhibition games in the Middle East and Asia during the week in winter. A bit of extra money can't hurt as it fights to get back in Europe.