Economists, pundits and politicians have been asking for years: What does reshoring manufacturing into the United States look like in the 21st century? Well, part of the answer might look a lot like the matte black face of a Los Angeles-made Weiss watch.
Back in the early 20th century, when America was in the midst of its industrial boom, US companies made some of the best watches in the world. Giants like the Hamilton Watch Company and the Waltham Watch company, which "produced tens of millions of watches and clocks from 1854 to 1957" according to a post on the watch blog Hodinkee, invented an assembly line system, like Ford did with cars, to produce watches on a massive scale.
After World War II though, almost as a bellwether to what would happen to American manufacturing at large, watchmakers lost their grip on production. The Swiss had simply built a better, more efficient system, and grabbed the business out from under the Americans. (It's worth nothing the same thing has now happened to the Swiss—most mass watch production now happens in China and Japan.)
But now, watchmaking in the US is coming back, in a small but significant way. It will never supplant Switzerland or Asia in volume, but it will create new jobs and a expand what has been a growing category of consumer goods: the "Made in America" object of function and industrial aesthetic. And funny enough, the Swiss are lending the Americans a hand.
Two companies leading the resurgence are Shinola of Detroit and the Weiss Watch Company of Los Angeles. In just over a year, Shinola has a achieved a tremendous following, due its reputation for quality. The company won't release sales figures, but Quartz has learned that it sold 50,000 watches during its first year in business. By staking their brand on the idea that quality goods can be made again in the US, the company is the embodiment of those gritty Detroit renaissance seen in those Chrysler commercials on your TV. (The difference being Shinola isn't owned, as Chrysler is, by Fiat, a firm based in Italy.)
Shinola's early successes can also be traced to its partnership with a Swiss company, Ronda AG, which provides the mechanical movements for some Shinola watches, along with factory equipment and employee training. Ronda even helped Shinola design the layout of their factory. As Shinola CEO Steve Bock told me recently, that partnership has been critical to his company's growth and success.
"We had a constant flow of trainers coming here from our Swiss partner," says Bock. "Now we have a somewhat regular schedule and we have people flying from Detroit to Switzerland where they're exposed to more of the process at Ronda."
Weiss Watch Company, even smaller than Shinola, is led by its 27-year-old founder, Cameron Weiss. Weiss has also benefited from oversees training. Cameron honed his watchmaking skills at a school run by the Swatch Group in Florida. He then went to work for a while in Geneva, and eventually landed at Vacheron Constantin before returning to Los Angeles, where he is pioneering a West Coast watch industry from scratch. As he told Quartz, he has had to personally teach machinists how to produce the parts in minute detail, based on what he learned from the Swiss.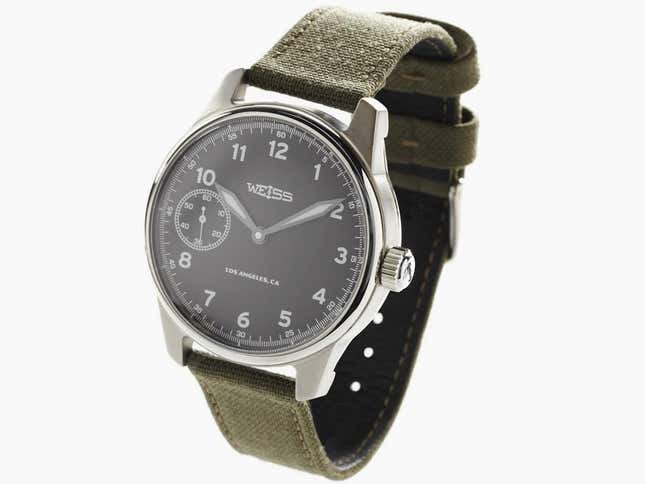 "All of these things have not been done in the US for around a hundred years now. So there's no infrastructure for it," he says. "For each part, we actually have train the staff to properly cut the material from a block of metal, and then properly handle the material. We really have to reinvent the industry."
Perhaps not coincidentally, both Shinola and Weiss have popped up in areas where some of the remaining infrastructure of once booming industries, cars in Detroit and aerospace in Southern California, are helping them produce their watches today. Certainly, recycling old, unused factory space has been a helpful factor for both companies, as is access to a ready pool of labor, even if it's in need of new training.
The examples of Shinola and Weiss Watch show that manufacturing can come back to the US, but it won't be because US companies are able to compete on cost with leaner manufacturing methods, or even exclusively by creating high-tech or green jobs; two mantras often repeated by politicians. Instead, US manufacturers are finding success by reshoring know-how, technique, process and even machinery that went overseas many years ago. They then can repackage all this and sell it to a nostalgic, and perhaps patriotic, public as brand America.
Weiss and Shinola are just two companies trying to convince consumers that the the US can make a better watch, the same way the Swiss did 60 years ago. To succeed, they have to show that America is synonymous with precision, quality and craftsmanship. If they can do that, then maybe soon more makers in other industries will begin to invest in bringing "brand America" manufacturing back online.