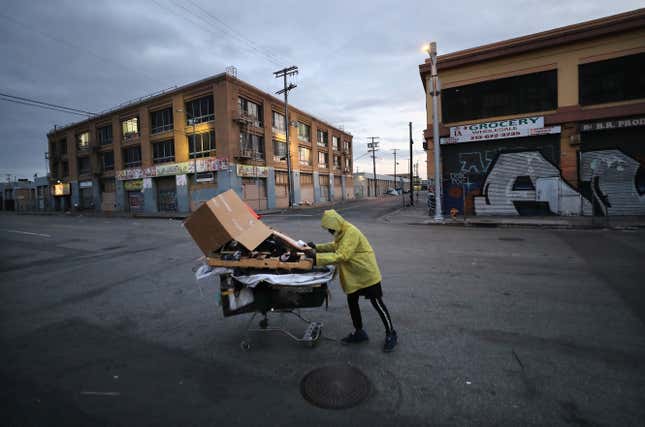 A new study is busting myths about homelessness in California. Contrary to suspicions that the state's homeless generally are young and from out of state, the Benioff Homelessness and Housing Initiative research group out of the University of California, San Francisco, finds that nearly half of all unhoused adults in the state are over the age of 50, and 90% lost their housing within the state.
Billy Porter on his personal healthcare crisis
The study (pdf), produced at the request of California governor Gavin Newsom's administration but not funded by the state, surveyed nearly 3,200 unhoused people, 75% of whom were in the same county where they lost their housing. More than 171,000 people are experiencing homelessness in the state, making up 30% of the entire homeless population in the US, according to the study and separate research from the Public Policy Institute of California.


Why people lose housing

It is said that homelessness can happen to anyone, and it is especially true in times of increased prices and financial hardship. Even with employment, housing is not a guarantee with rising rents and the lack of affordable housing.
The top economic reason for losing housing for those surveyed was lost or reduced income, with leaseholders hit harder than non-leaseholders. Leaseholders are defined as those paying a rent or a mortgage while non-leaseholders may have been housed through other means like couch-surfing or staying with relatives. Of those with leases, 35% cited lost or reduced income as the main reason why they became homeless. Increased housing costs or housing costs that were too high was a reason for becoming homeless for 26% of leaseholders and 16% of those without leases.
Costs for everything else also contributed to not being able to pay rents or mortgages. Of those paying rent or a mortgage, 14% said their non-housing costs increased that led to homelessness. Higher non-housing costs affected 7% of non-leaseholders. The state of California is considered to be one of the most expensive in the US, where minimum-wage earners would have to work 90-hour work weeks in order to afford a one-bedroom apartment.