A quick glance at JetSmarter's website seems to set the tone for its customers. What appears to be an Armani-clad couple have left their pearly white Mercedes Benz GL class and are ascending into their private jet. But Sergey Petrossov, the 26-year-old creator of the marketplace app, says he want to give a taste of the (private) jet life to everyone.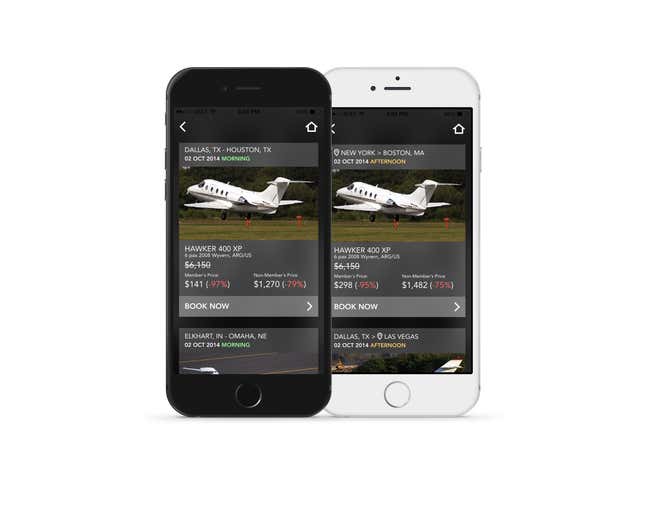 JetSmarter offers the usual on-demand charter flights, but in a twist on the conventional business model, it also integrates empty leg flights into its system. (Empty leg is industry jargon for when charter jets fly empty going to or from a client booking.) And that means flights can get a whole lot cheaper.
Petrossov noted that carriers will take whatever they can get for their empty leg flights. "Regardless of whether I pay them $100 or whatever, they're flying that jet," Petrossov told Quartz.
Empty leg flights generally cost between $1200 and $3000 for the entire jet which can translate into around $215 a person at the lower end. Often, the rates are cheaper than a one-way first or business class ticket—a private jet booked through the app from London to Paris, for example, is cheaper than a business class seat on British Airways or Eurostar—and almost always cheaper than average hourly jet charter rates.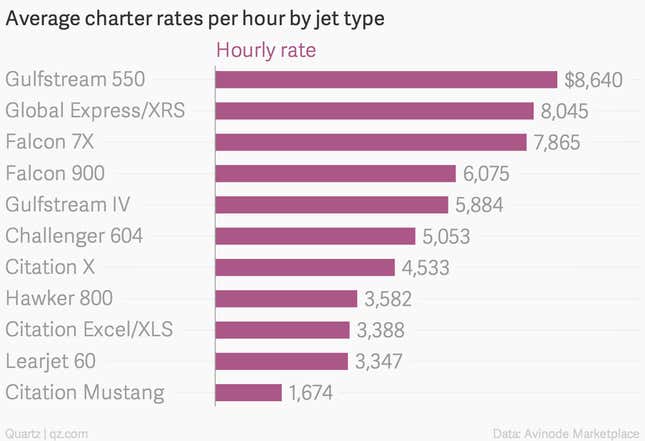 The deals can be even better for members who can score free or $1 flights in return for a $6,999 annual fee. Mike Zebrowski, chief operating officer of eMoney Advisor, told Quartz he paid $1 for an empty leg trip from Miami to Key West, Florida, as a member, and his friends paid $17 each. For everyone else, the app is free to download and anyone who registers can book a charter or empty leg flight.
Using empty legs to offer cheaper alternatives isn't unique to JetSmarter. Companies like PrivateFly and JetSuite also provide empty leg deals. But PrivateFly's empty leg deals are relatively rare. "It isn't our focus," CEO, Adam Twidell told Quartz. PrivateFly, which sold its first flight in 2007, averages about 200 bookings a month.
Twidell, a former jet pilot, noted that empty legs are "very volatile," adding that, "[They're] subject to the primary customer keeping to their schedule. […] Frequently people will attempt to buy [empty legs] than find out that morning they're not on the same route anymore."
He's right. One of the main lures of private jets is that they are flexible, and empty legs only come before or after someone else has flown the jet. Companies like Blackjet, which was backed by Uber among others, focused on empty leg flights, but eventually tanked after losing $200,000 a week. BlackJet's CEO told Quartz the company is coming to fruition after a restructuring.
"BlackJet was selling seats on their jets," a spokesperson for JetSmarter told Quartz. "JetSmarter sells whole jets, and provides services from A to Z." And while JetSmarter allows travelers to request and book a seat on a private jet from their smart phones with the same ease as using Uber to get a ride, Petrossov isn't worried about facing similar regulatory roadblocks as ride-sharing apps, because, unlike Uber, every jet already operates under a commercial license.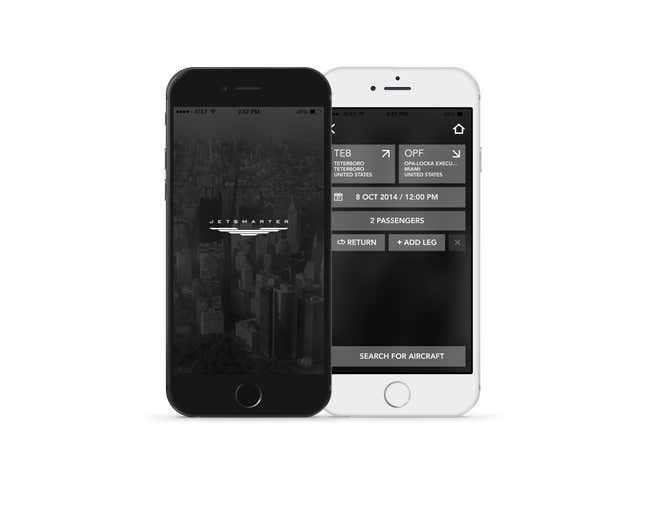 The JetSmarter app averages about 10 bookings a day compared to 5 just last month, and it has exceeded 300,000 downloads, Petrossov said, with its top markets outside the US being the Middle East, Europe, and Latin America, in that order.
That may still be small, but Petrossov isn't worried. According to WINGX Advance, an aviation industry intelligence firm, the charter business has been growing even as the private jet industry, which includes fractional and whole ownership companies like Berkshire Hathaway's NetJets, was stagnant in the US last year, and declined by nearly 4% in Europe.
"We're a technology company, we don't compare [to jet companies like NetJets]," he said. "We put ourselves in a totally different category."