A Lego pamphlet from 1974, unearthed and posted on Reddit this weekend, has some advice for parents that rings true 40 years later: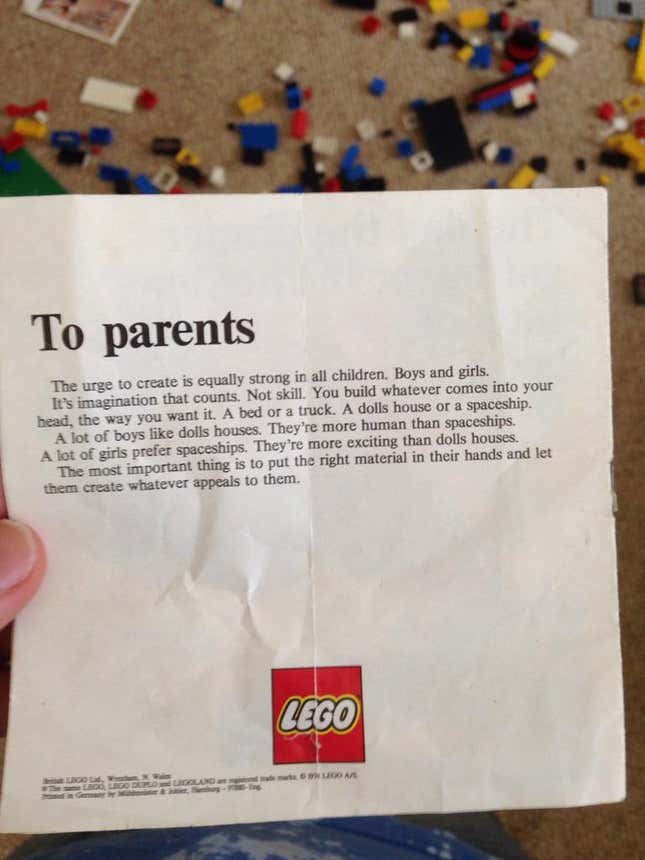 The pamphlet's authenticity was questioned after it went viral over the weekend, but Lego spokesman Roar Rude Trangbæk confirmed to Quartz that the document is real, and was included with a series of Lego dollhouses. (If the dollhouse figures look a little strange in the photo above, it's because Lego's iconic "minifigure" wasn't invented until 1978.)
"The pamphlet was contained in the product line regarding Lego dollhouses, it was targeted primarily at girls age four and up," he said in a phone interview. "To us it's expressing what we've always been about, which is about encouraging creative play."
Lego became the world's biggest toymaker this year, due in large part to the enormous success of The LEGO Movie. But it has also drawn criticism from fans for its reliance on licensed products from the Star Wars franchise and other Hollywood properties, and it has struggled at times to appeal to girls as well as boys. One seven-year-old girl wrote a letter to the company complaining about the girl-oriented Lego Friends: "All the girls did was sit at home, go to the beach, and shop, and they had no jobs but the boys went on adventures, worked, saved people, and had jobs, even swam with sharks."
Trangbæk argued that Lego Friends, which is now two years old, along with the company's many Hollywood-themed toys, all share a common DNA with classic Lego sets, including the 1974 dollhouses.
"It's not about what type of play we're offering, it's all about children having the materials in their hands to create whatever they want," he said. "When you open the box, it's just Lego bricks."