For Iran, the failure to reach a nuclear agreement in Vienna today has a dollar figure—about $1.6 billion a month in potential lost oil income. Each day, Iran will lose $56 million, according to its own figures.
Last summer, Iranian oil minister Bijan Namdar Zanganeh said Iran could boost its oil production by 700,000 barrels a day within two months of Western-led sanctions being lifted. If, as expected, all or most of that would be exported, Iran could be selling a total of about 3 million barrels a day onto the global market.
But in Vienna today, Iran and the Western-led negotiators, known as P5+1, said they had failed to settle their differences. The talks instead will be extended, with the first new meeting likely to happen next month. Using the Iranian oil minister's $56-million-per-day assessment, this is what Iran stands to lose in potential oil exports as the days without a deal drag on: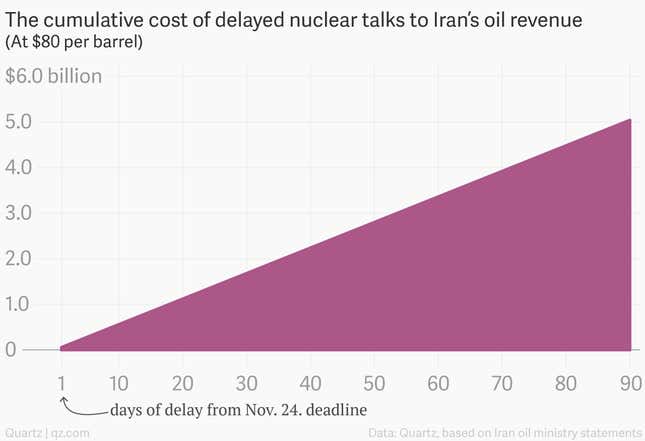 Perhaps Iran is looking for hope in the Nov. 27 OPEC meeting, also in Vienna, where it has said it may propose a million-barrel-a-day cut in the cartel's daily production. This would be aimed at reducing the global oil surplus, which has sent oil prices plunging from $115 a barrel in June to about $80 today.
In a note to clients, Goldman Sachs said it expects a small OPEC reduction. But even if the cartel agrees to a cut of the size Iran suggests, Goldman said, it would be self-defeating: Any rise in oil prices would buoy US shale oil, whose 3-million-barrel surge of production over the last three years, along with lagging demand, is largely responsible for the price collapse.
Hence, OPEC would be encouraging US shale drillers to produce even more oil, creating a vicious circle and no price relief.