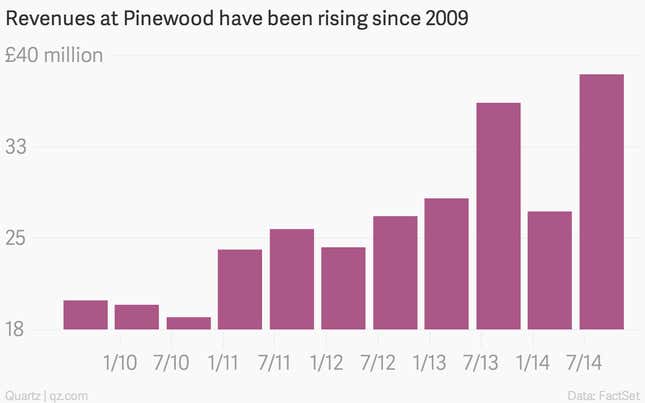 The numbers: Pinewood Shepperton, the British film studio where they make the James Bond movies, said revenues touched £38.5 million in the six months to the end of September, up from £36.2 million in the same period last year. The company said that revenues from its sound stages were up 15%—and that "ongoing strong film demand has limited television occupancy opportunities in the period." For a production company, that is a good problem to have.
The takeaway: Hollywood has been making more and more big-budget blockbusters, and Pinewood has its pick of the very biggest. In the past month, the two biggest films in the world have occupied the company's two landmark sets—Star Wars: The Force Awakens at Pinewood, and Avengers: Age of Ultron at Shepperton. The latter is the most anticipated sequel recently, while any new Star Wars film is automatically the most anticipated film of all time.
The company's going to have a hard time topping those two productions next year—though at least a new Bond film begins shooting next month.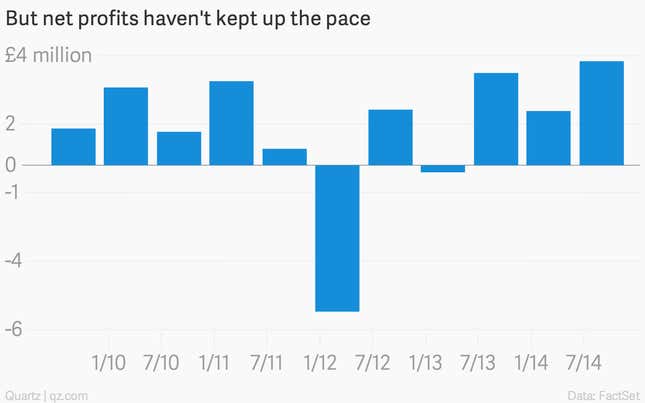 What's interesting: While the company's revenues are doing well, it can't seem to make much of a profit. This is partially because Pinewood Shepperton is expanding so rapidly abroad.  Last year, it completed building Pinewood Dominican Republic and Pinewood Iskandar in Malaysia—which was immediately booked for the filming of the new Netflix TV series, Marco Polo. It has also built 100,000 sq ft of sound stages in Atlanta, and will consult on a huge new space in China, to be built by 2017.
To keep this expansion going, the company needs movies to stay big. In its annual report, Pinewood warned: "The group's largest customers account for a high percentage of revenues. If 'big-budget' filmmakers cease to choose the group's facilities this would reduce revenues."
That could be starting to happen, as more and more people choose to stay home for their entertainment. So far this year, only one film—Guardians of the Galaxy—has made more than $300 million at the US box office. If it stays that way, it will be the first time since 2000.