The United States is still the world's most popular destination for highly skilled professionals. But it doesn't seem to have quite the allure it used to.
In fact, professional migration to the US has declined substantially since 2001, according to a new study (pdf) that used a massive dataset culled from LinkedIn career histories.
LinkedIn data scientists Bogdan State and Mario Rodriguez found that while 27% of migrating professionals chose the US in 2000, just 12% did in 2012. The drop for professionals in science, engineering, technology, and math fields was even steeper, from 37% to 15%. The trend holds across degree types (with the data based on the highest degree earned):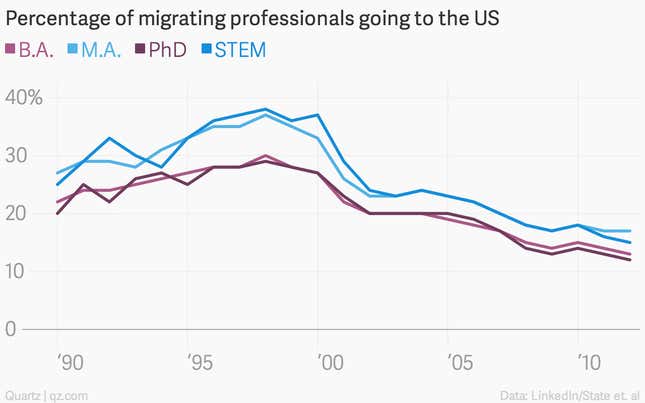 You get similar results when you restrict the data to graduates of the world's top 500 universities. The share that migrated to the US halved in 12 years, from 24% in 2000 to 12% in 2012.
The biggest new destination of migrants has been Asia, which saw its percentage of the migration pool grow from 10% to 26% from 2000 to 2012.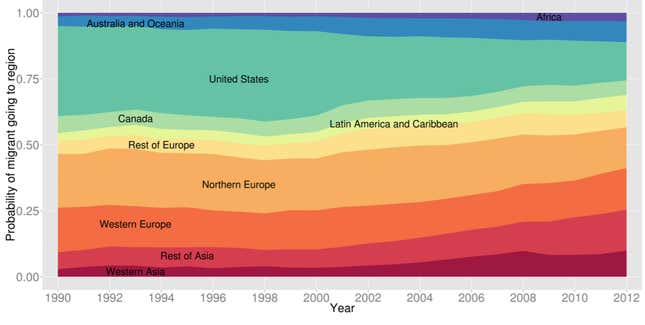 The data came from aggregated and anonymized LinkedIn profile information on employment, location, and education, creating an extremely large and updated picture of international worker flows.
There likely are a number of contributors to this phenomenon. Tightened immigration rules after the Sept. 11 terrorist attacks certainly played a role, and the financial crisis in 2008 made the US job market generally less appealing. But the biggest factor of all seems to be greater opportunity opening up elsewhere in the world.