Today is not the busiest day to fly in America. I repeat, today is not the busiest day to fly in America.
It's not even close.
The three busiest days to fly in the US are all in the summer. In 2013, they were July 18, 25, and 11, according to airport operations data from the FAA. Those were the three consecutive Thursdays following US Independence Day on July 4th (which was the 21st least-busiest day to fly).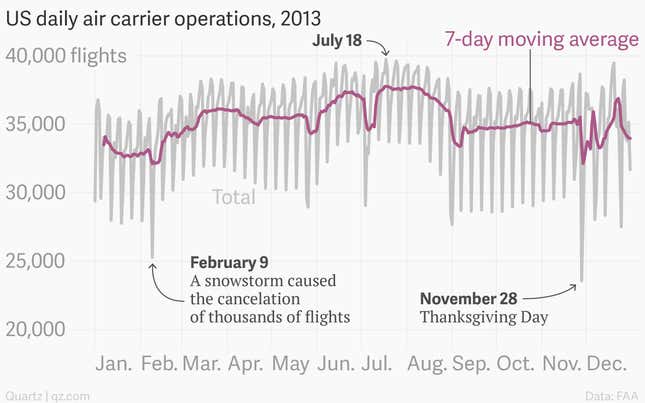 Of the top 30 busiest days at US airports in 2013, only three were during winter.
The day before Thanksgiving, if you were wondering, ranks 27th.
The Friday before Christmas—Dec 20—was the busiest winter day in 2013, ranking 4th overall. This year the Friday before Christmas is Dec 19.
The day before Thanksgiving is only marginally busy—not only in aggregate, but also at a local level. In 2013, there wasn't one airport in the US that had its busiest day on Nov 27. Here's a map of that: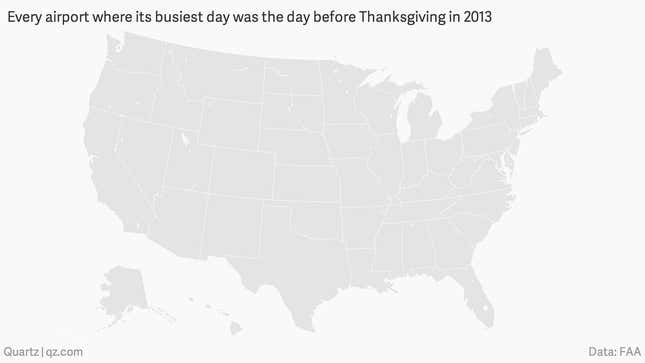 With snow expected on the east coast this year, there are worries of weather related delays and cancellations that could pack more passengers onto fewer planes today. But that has not been the norm either. Flights in November are the least delayed by weather of any month on average.