It's fair to say that Sepp Blatter is not universally beloved. The head of FIFA, soccer's governing body, has been in power since 1998 and ostracized vast swathes of the sport's fans. His organization is buried in a never-ending corruption scandal over the decision to award the next two World Cups to Russia and Qatar.
The man himself has the sensitivity of a block of steel: most recently, he said the welfare of laborers building stadiums in Doha for the 2022 tournament are not FIFA's responsibility. Previously, he has suggested that women soccer players should boost their game's profile by wearing "tighter shorts."
He keeps threatening to leave and never does. What's worse, the candidates to replace him never seem much better than he is. In every way, Blatter is the Silvio Berlusconi of soccer.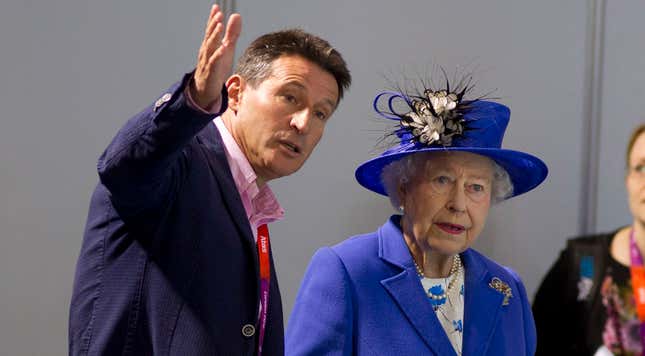 But even a cursory survey of other major sports shows it doesn't have to be like this. The great British Olympian, Sebastian Coe, has thrown his hat into the ring to run the International Association of Athletics Federation. The two-time gold medallist is just the kind of person who should be running a large global sports body.
He has credibility to burn
Blatter worked his way through FIFA, from technical director to head of the organization. He is a bureaucrat, not a world-class player in his sport. But Coe was—he set world records for middle-distance running. When Coe talks about the problems bedeviling athletics—when he, for instance, advocates a zero-tolerance approach to doping—his credibility is unquestionable.
He has experience in putting on huge sporting events
Coe helped deliver and organize the incredibly-successful London Olympics—with nary a scandal. He even managed to get the Queen to star in a James Bond short:
His plans actually make sense
Coe is running to head the world's track-and-field governing body based on a manifesto with a lot of common sense, including reforming the athletics calendar. "Many fans don't know when the athletics season starts, when it ends, why it seems to bounce around from the USA to Europe to Asia and back again," he says.
He also wants to find newer and younger audiences. Coe has proposed creating a new IAAF division solely focused on youth engagement, "especially via social media." He also wants to create a new street-athletics circuit that will bring track and field to city centers—just as motor sport has done with Formula E. Considering how many other sports are trying new ways to gain attention, both moves are eminently sensible.
By contrast, Blatter took decades to come around to the simple idea of goal-line technology.
Interestingly, Coe has plenty of soccer experience, as the first chairman of FIFA's independent ethics watchdog; he also helped lead England's failed bid for the 2018 World Cup.
At the highest level, sports administration is more similar than it is different across the various pursuits. If Coe fails to get the IAAF gig, perhaps he could be persuaded to try for Blatter's job?