Shopping for electronics, like many things in Tokyo, is an extreme sensory adventure. Every visit, I make a point to spend at least a couple hours wandering the city's gadget department stores. This time, I braved the nine-story BIC Camera in Tokyo's Yurakucho neighborhood, along the train tracks and right next to Ginza, the posh shopping and business district. This place sells everything from camera lenses to contact lenses, aisles densely packed with an incredible variety of products.
When I arrive late on a recent Sunday afternoon, there's an announcer out front, dressed in a red company jacket, hawking over a microphone. You can hear faint music—BIC Camera has its own theme song, which plays in parts of the store—and there is an abundance of bright, fluorescent light. (If you'd like, press play on the widget below for a soundtrack to this article, recorded as I walked around.)
The first floor of these types of stores is mostly cellphones and accessories, reflecting the reality of the gadget industry these days. Years ago, when I'd visit, you'd see shelves full of unique, colorful Japanese flip phones. But these days it's mostly various, bland varieties of Android phones or Apple iPhones. Each of Japan's major mobile carriers is represented, including SoftBank, pictured here. Toward the back, you can find hundreds of different cases—some wackier than others—and things like sushi-shaped trinkets, colorful charging cables, and other accessories.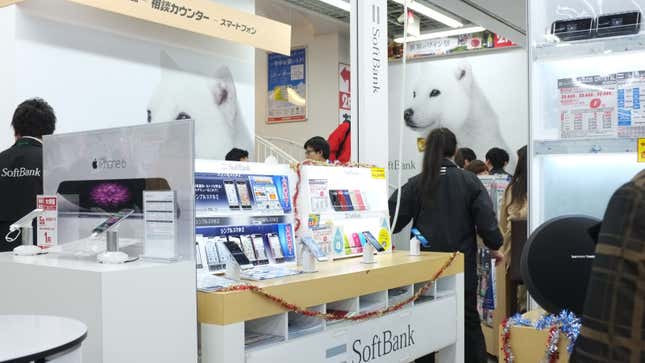 There's also a big audio department, including Bluetooth speakers, earbuds, and this section of "cans."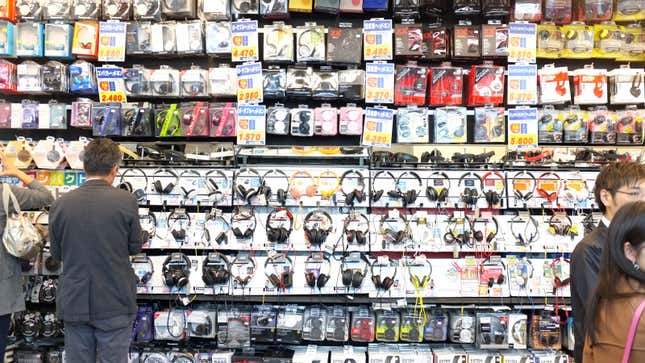 Up an escalator, and you're on the TV and audio (and liquor!) floor. This was my first time seeing 4K TVs in person, and they look pretty amazing. (And don't translate well to still photos.)
Up another floor, and you've reached games, toys, musical instruments, and medicine. And then the beauty section. Here's the colorful selection of hair dryers, for example.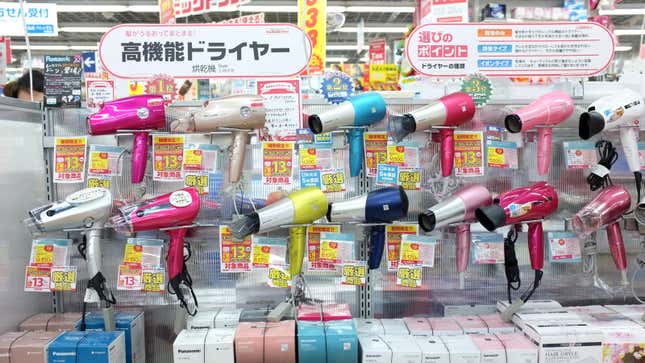 There's also an impressive variety of nose-hair trimmers/personal grooming devices.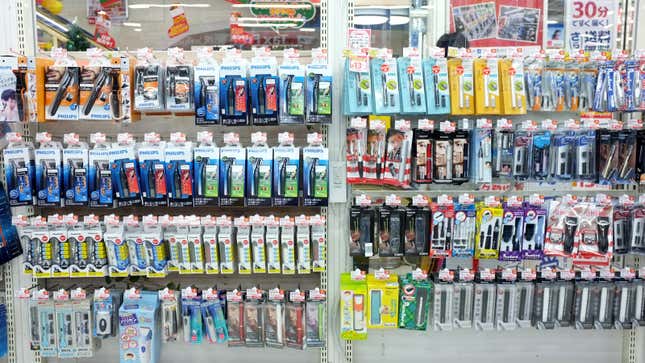 While stores like these used to feel like a walk into the future, as the Japanese tech industry has declined, they now also feel like a walk into gadget history. Here's an entire section of pocket dictionaries, made by Sharp and Casio.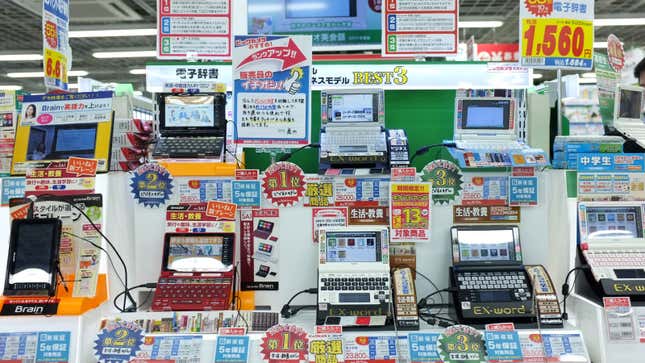 There are pens, stationery, and hand-cranked mini paper shredders. And a whole spectrum of colorful pocket calculators!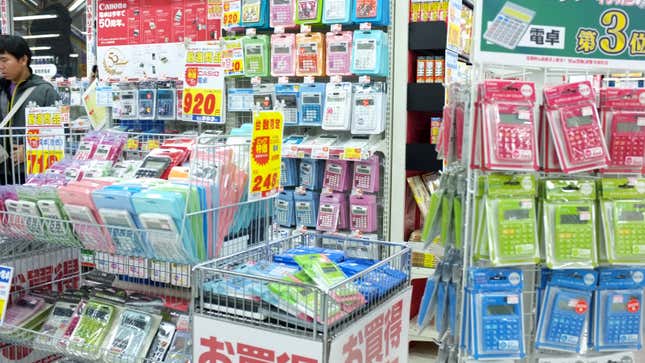 Upstairs again, I've reached one of two floors of computers and accessories. There are dozens of keyboards, and a vibrant selection of computer mice—several aisles worth.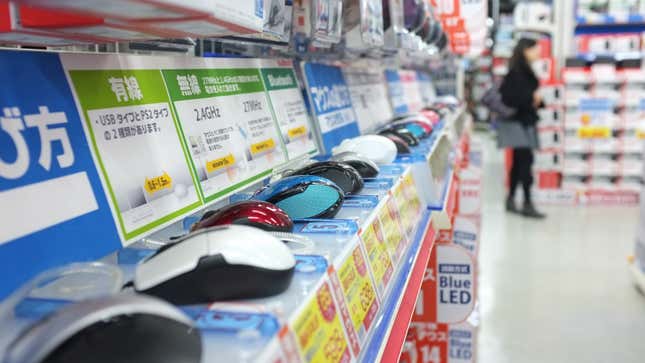 And then, a moment of calm. One fascinating part of this BIC Camera—and others in Tokyo—is what seems to be an Apple store-within-a-store.
Unlike the rest of the PC department, which is crammed with too-busy displays, piles of literature, and sale signs, this looks like it's straight out of Apple's own retail stores. A couple of nice tables, carpeting, different lighting, plenty of breathing room, and Apple's lineup of gadgets to play with in relative peace.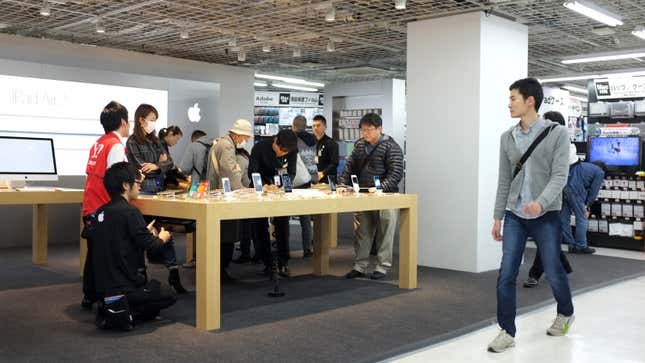 On my way downstairs, I pass a section of massage chairs, where people are enjoying free massages. Also, I pass by a wall of printer ink, CDs and DVDs, label printers, e-readers, and then this department: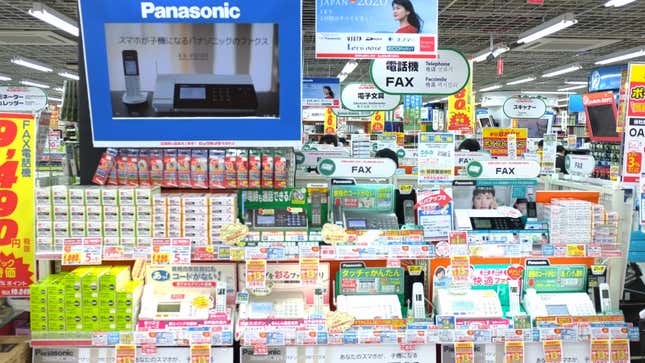 There are several aisles of fax machines. And then another spacious tribute to a bygone era, with many types of recordable CDs and DVDs to choose from.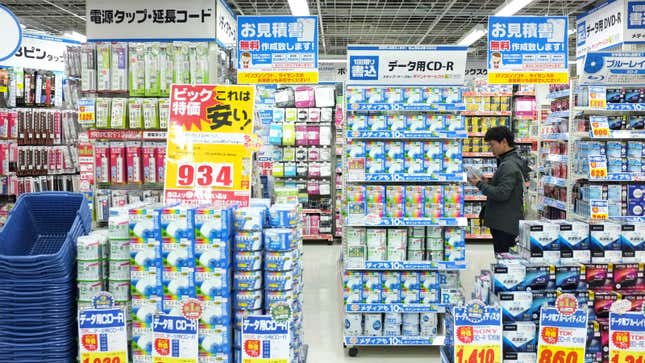 This tour could go on—you haven't even seen the Lego department, TV remotes, wrist pads, cameras, or Christmas decorations! But you're better off visiting in person. While many of today's crazy, new gadgets are coming from China—or Kickstarter—there will always be something special about Tokyo's gadget stores.