Last updated on Nov. 26 at 4:20 p.m. ET with a new Wal-Mart statement.
The Bangladeshi garment factory where more than 100 people died in a fire this weekend has connections to huge multinational retailers, including Wal-Mart, C&A, and KiK, according to documents on the factory owner's website.
Wal-Mart appears to have warned the factory last year about "violations and/or conditions which were deemed to be high risk." In a statement to Quartz on Nov. 26, Wal-Mart said that at the time of the fire, the factory "was no longer authorized to produce merchandise for Walmart.  A supplier subcontracted work to this factory without authorization and in direct violation of our policies.  Today, we have terminated the relationship with that supplier."
The factory is Tazreen Fashions in Savar, Bangladesh, an industrial town just outside the capital city of Dhaka. Its parent company is Tuba Group, which operates several factories in the area. Documents posted on Tuba's website indicate that the company supplies clothing, from T-shirts to fleece jackets, to a wide range of retailers, mostly in the United States and Europe: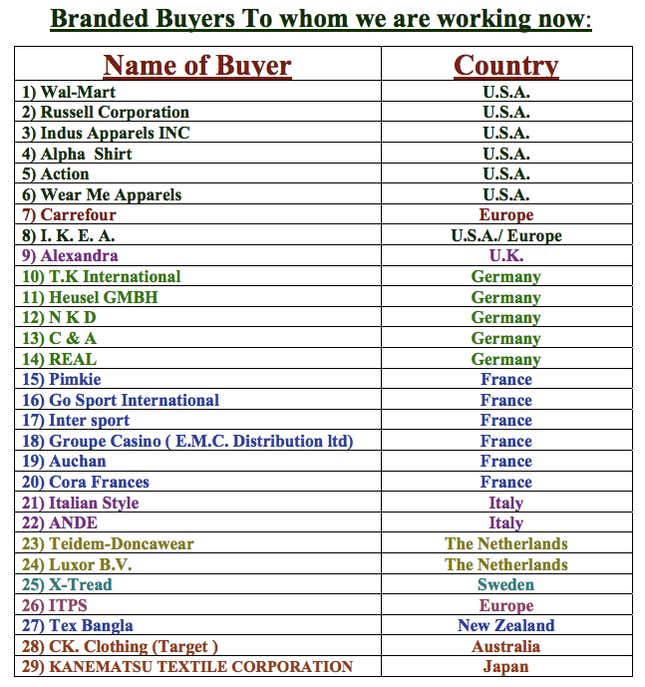 That document can be found on Tuba's website here, and we've posted it in a more searchable form on DocumentCloud here.
The list of customers refers to all of Tuba's factories, but other documents suggest that Tazreen, where the fire occurred, was supplying garments to Wal-Mart, the US-based retail behemoth, and KiK Textilien und Non-Food GmbH, a German discount clothing company with stores throughout Eastern Europe. Here is the first page of Tuba's profile of the Tazreen factory: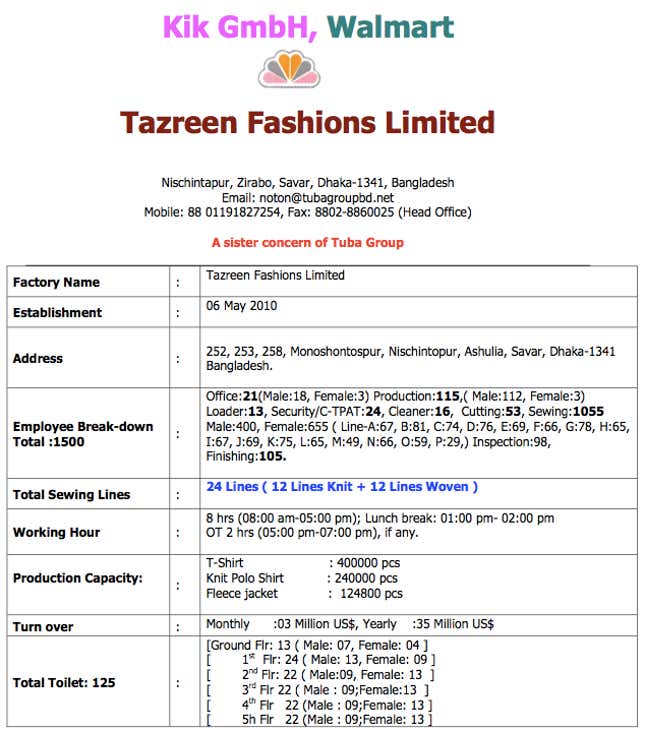 Read the entire document on Tuba's website or DocumentCloud. KiK has not yet responded to our request for comment.
Another document on Tuba's website indicates that Wal-Mart cited the Tazreen factory on May 16, 2011, for violations of its "ethical sourcing" program.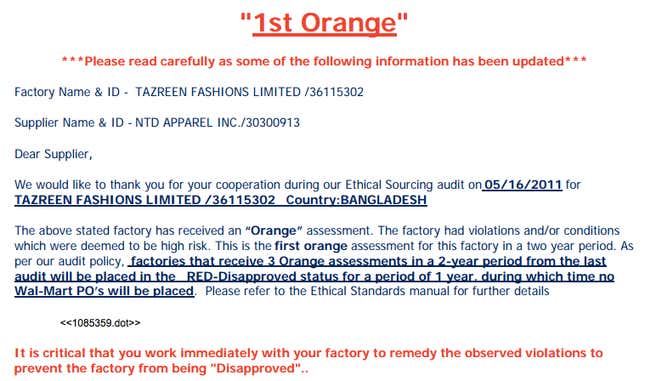 The citation appears to be addressed from Vinitha Irshad, a Wal-Mart assessor. You can read the entire document on Tuba's website or DocumentCloud. Wal-Mart's standards for its suppliers are posted on the company's website and mostly concern working conditions and wages. Bangladesh is notorious for poor safety, harsh working conditions, and low pay at its factories.
Orange violations are seen as "higher-risk" than green and yellow violations but not as serious as a red assessment, which would end Wal-Mart's relationship with the factory. Here is how Wal-Mart describes an orange assessment:

It's not clear what specific violations led Wal-Mart to give Tazreen an orange assessment or if the factory was reinspected after May 2011. According to Wal-Mart's website, 22% of all its factory inspections last year resulted in orange assessments; 52% received yellow ratings. Red assessments were rare.
In its statement, Wal-Mart said, "The fact that this occurred is extremely troubling to us, and we will continue to work across the apparel industry to improve fire safety education and training in Bangladesh."
Separately, The Guardian is reporting that the managing director of Tazreen, Delwar Hossein, said the factory was making clothes for C&A, the European fashion giant, among other companies. C&A hasn't responded to our request for comment.
Bangladesh is the world's second-largest clothing exporter, after China, with $19 billion in garment exports in the fiscal year that ended on June 30, according to The Wall Street Journal (paywall). The country is home to about 5,000 factories, some of which have suffered similar fires in the past, though the Tazreen fire is the deadliest in the country's history, Reuters says.
Bangladeshi workers have agitated for better pay and working conditions. Two years ago, the country's minimum wage was raised to $38 a month. In June, violent clashes between workers and police led to the temporary shutdown of some 300 factories in the same area Tazreen.