Korean Air's macadamia nut scandal—in which the daughter of the airline's chairman dressed down staff for improper nut-serving protocol, and ordered a steward to exit a New York-to-Seoul flight—is raising new questions about the country's family-dominated corporate culture.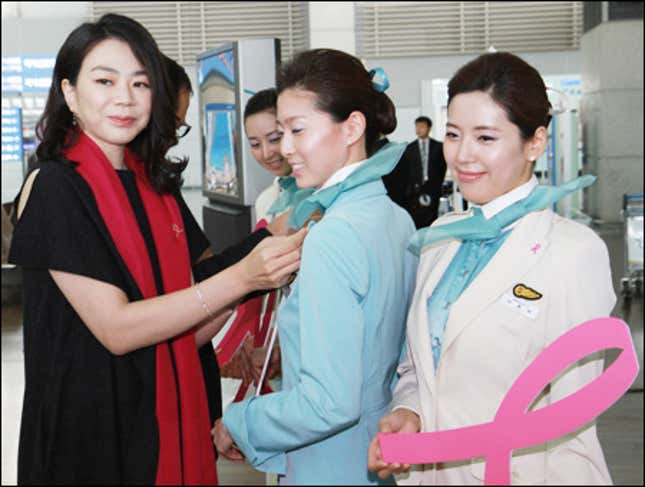 At the center of the macadamia affair is Heather Cho, a vice president at the airline whose duties include overseeing inflight service. After a flight attendant served her unrequested macadamia nuts in a paper bag—first-class passengers are supposed to be asked if they would like nuts first, and the nuts themselves are supposed to be served on a plate—Cho told the captain to return to the gate and ordered the head of the service crew off the plane when he couldn't quickly answer questions about the airline's policies.
Macadamia-gate only cost Cho's fellow passengers about 11 minutes, according to Korean Air, which lambasted the flight steward for "making up lies and excuses." But it cost Cho her job: she resigned her position today at the airline, according to Reuters, citing an anonymous company official.
Her haughty behavior reveals an ugly side of the culture within chaebols, South Korean's giant family-run conglomerates. Family members at the firms are often even more powerful than senior company executives, and the Dong-A Ilbo newspaper said in an editorial that Cho's actions exemplify the "sense of privilege" that chaebol families lord over other workers. A recent survey by the Segye Times and the Asan Institute for Policy Studies found that 92% of young South Koreans think their society is unfair, and that "deep-rooted nepotism will ruin society."
The five largest chaebols, led by Samsung, bring in two-thirds of the country's GDP. Samsung is in the midst of a corporate transition as longtime chairman Lee Kun-hee, who was hospitalized after a heart attack earlier this year, prepares to hand over control to his son, Lee Jae-yong.
Yang Ho Cho, Heather's father, is no stranger to nepotism scandals. The Korean Air chairman and CEO—who took over from his father, Cho Choong Hoon—was convicted in 1999 of tax evasion and embezzlement charges, part of a scandal in which South Korea's then-president Kim Dae Jung cited nepotism as a primary factor in a series of accidents at the airline, which killed more than 800 people.
The Korean government is reportedly investigating whether the macadamia-nut incident broke any aviation safety regulations. Disruptions to the crew's service or passengers' safety can result in a fine of up to five million won ($4, 507). But for Korean Air and the family that owns it, that's peanuts.
Additional reporting by Annette Ekin in Seoul.